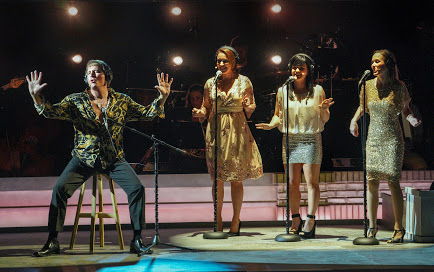 Have you ever wondered whether you should go to a movie or a play? If a play, a musical or a drama? The Wallis has solved the dilemma for you. LOVE ACTUALLY LIVE offers all of the above in a festival of color and music. Key lines from the movie "Love Actually," upon which the show is based, are flashed on assorted screens appearing and disappearing as the original actors deliver the statements – from the uproarious to the poignant – which form the themes from the film. Meanwhile, live actors strut across the stage and into the aisles singing their hearts out to tunes from the motion picture. As riotous lights flash across the ceiling and spectacular backdrop videos morph onto slipping and sliding panels, important scenes are reenacted onstage – but the actors never say a word. All in all, this is a perfectly timed journey into a magic place where machine and man intersect.
As for story, in its own circuitous way, LOVE ACTUALLY LIVE depends on the original tales of happy, hapless, and lost lovers. The film starred a host of talented actors. The Prime Minister of England (Hugh Grant in the film) still finds himself attracted to Natalie (Martine McCutcheon), a chubby and very cute clerk at 40 Downing Street. Jamie (Colin Firth), an author with a serious writer's block, still has the hots for Aurelia (Lucia Moniz), even if they don't share a common language. Mark (Andrew Lincoln) still feels a hopeless attraction to his best friend's wife Juliet (Keira Knightley). Quirky Colin (Kris Marshall)) hasn't given up finding his true love, and Daniel (Liam Neeson) must bury his grief and learn to connect with his stepson Sam (Thomas Sangster). Harry (Alan Rickman) still can't decide how to balance his attraction for Mia (Heike Makatsch) and his loyalty to his wife Karen (Emma Thompson). And let's not forget Billy Mack (Bill Nighy), a star spiraling downhill who is hoping for a glorious comeback with his newest song celebrating Christmas.
LOVE ACTUALLY LIVE has found some very talented doppelgangers to cover all the bases in this complex crowd of lovers. All with phenomenal vocal skills to boot. Outstanding vocalists and performers include Rumer Willis, Steve Kazee, Kelley Jakle, Rex Smith, Carrie Manolakos, Justin Sargent, Zak Resnick, Doug Kreeger, Olivia Duper Harris, Tomasina Abate, Sean Yves Lessard, Cairo McGee, Glory Curda, Tom Zmuda, Alex Csillag, Megan Shung, Carson Higgins, and Emily Lopez. Happily, each member of the audience is presented with a map of the various characters before the show in order to match film actor, stage actor, and which half of which love affair each individual represents. AUDIENCE ALERT: It might be a good idea to watch the original motion picture before seeing the LOVE ACTUALLY LIVE show.
And while all the spectacle is emerging onstage, LOVE ACTUALLY LIVE has a live 14-person orchestra in the pit led by conductor Jesse Vargas. Adapted and directed by Anderson Davis, LOVE ACTUALLY LIVE is really a team effort, with each member of the huge crew handling his own very important piece of the action. Matthew Steinbrenner's scenic design and Aaron Rhyne's video design are awe-inspiring. Michael Berger's lighting, Steve Mazurek's costumes, and Benjamin Soldate's sound together operate with split second precision. For any techies in the audience, this will prove a fascinating production. For the rest of us, LOVE ACTUALLY LIVE is entertaining, exciting, and pure fun.
LOVE ACTUALLY LIVE runs through December 31, 2018, with performances at 7:30 p.m. on Mondays through Fridays, at 2 p.m. and 7:30 p.m. on Saturdays, and at 2 p.m. and 7 p.m. on Sundays. New Year's Even performance (December 31) is at 7:30 p.m. The Bram Goldsmith Theater is in the Wallis Annenberg Center for the Performing Arts at 9390 N. Santa Monica Boulevard, Beverly Hills, CA 90210. Tickets range from $35 to $125. For information and reservations, call 310-746-4000 or go online.