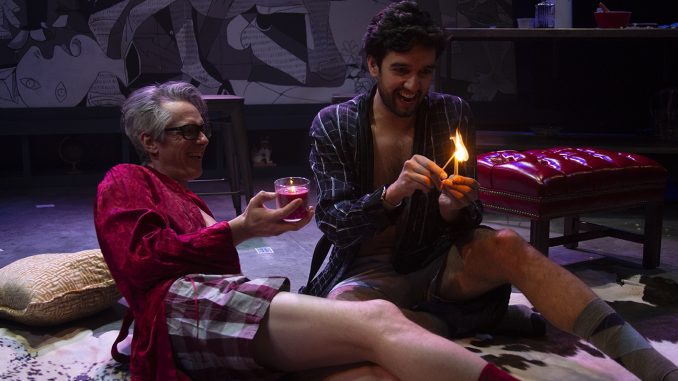 You know the Drama League, yes? Founded in 1910, the league supports theater professionals by providing production opportunities and professional development. The League, in its own words, offers "a life-long artistic home for directors and a platform for dialogue with, and between, audiences." One of the ways the League supports directors is through its annual festival featuring the work of talented, early-career directors. The League calls this event DirectorFest, and it's been a mainstay of the organization for the last 35 years.
Directors, of course, can make or break a show. The director of one of the festival shows I saw took a rich and lyrical but complex script and moored the words to such specific and nuanced behaviors that the play developed a layer of accessibility not always apparent on the printed page. Gifted directors will always put their decisive stamp on shows without altering a line of the text or speaking any of the lines themselves.
Chosen from over 330 applicants nationwide, DirectorFest 2019 features work by Drama League Directors Project Fellows Jennifer Chang, Tara Elliott, Kemar Jewel, Seonjae Kim, and Dennis Yueh-YehLi. Next Stage Resident Whitney White and International Exchange Program Artist Boyan Kracholov round out the series. All of these artists are given the resources, mentoring and support to mount professional productions for short runs on New York stages, including the New Ohio Theatre and Joe's Pub in Manhattan, and the LaGuardia Performing Arts Center in Long Island City.
This year's festival runs now through January 28, and should make for not only lively, thought-provoking theater but—if past years are any judge—could very well introduce audiences to the artists who will guide their standout theatrical experiences for some time to come. DirectorFest alumni include Tony® Award winners Christopher Ashley (Come From Away), Rebecca Taichman (Indecent), Sam Gold (Fun Home), Diane Paulus (Waitress), Michael Mayer (Head Over Heels), and John Rando (On The Town).
DirectorFest 2019 features six fully-staged productions, a showcase evening of a new musical, discussion forums, and talkbacks with established American directors. Though all of the festival directors may be at the beginning of their careers, you may be surprised to learn what an accomplished group they already are. These artists:
Serve as head of a undergraduate acting dept. (Chang)
Produced a Gotham Award-winning web series (Elliot)
Developed social media projects with six million views (Jewel)
Was produced at LaMama and the Atlantic Theater Company (Kimis)
Will premiere work at the Pravets Mozart Festival in Bulgaria (Kracholove)
Developed work at New York Theatre Workshop and 59E59th Theaters (White)
Was produced at Theater for the New City (Yueh-Yeh Li)
In other words, though they have yet to win their Tonys®, you're most likely in good hands.