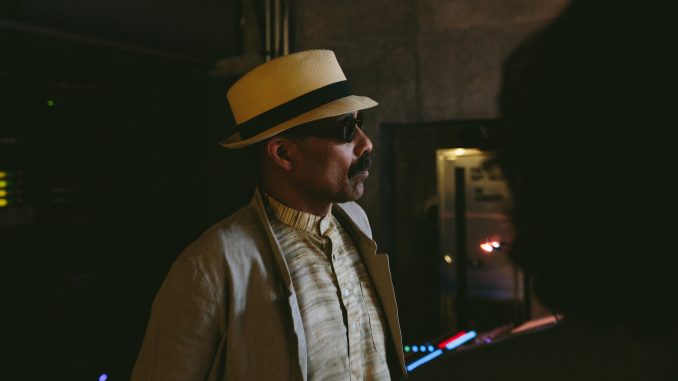 Sir Kahil El'Zabar's Ethic Heritage Ensemble (EHE) will embark on its 46th annual Black History Month tour, Tour 46: Be Known, throughout February 2019. Band members include Kahil El'Zabar, percussion/vocals; Alex Harding, baritone saxophone; Corey Wilkes, trumpet; with special guest appearances by Ian Maksin, cello.
El'Zabar, a much-decorated visionary conductor/multi-instrumentalist/composer, has just been signed as flagship artist for Spiritmuse Records, based in London, who are backing the North American tour. The new company is dedicated to  "exploring the world of deep, spiritual and avante-garde jazz and its infinite world music influences".
Their first collaboration, an audiophile recording (which will also be available digitally) called Be Known: Ancient/Future/Music with the four EHE touring artists, is due out in March 2019, and the new-art/afro-centric  jazz tunes will be largely featured on the 19- city 21-concert North American series of engagements.
This writer was able to interview the musicians about their relationships, the new recording, and the upcoming Tour 46: Be Known. The discussions were most impressive in the degree of enthusiasm the cohorts share for the unfettered ingenuity of their music making and the depth of regard and affection they have for each other.
Kahil El'Zabar is an artist in a league of his own; much has been written about the awards, the honorary P.H.D., the French Knighthood (Chevalier Medal of Honor), the presidential appointments. There's been a wealth of well-acclaimed projects, recordings, film scores, teaching positions on every level. He's the subject of two documentaries, one by George Lucas as part of The History Makers series, the other, Be Known, by Dwayne Johnson-Cochran, just released on Amazon Prime.
Everywhere referred to as "the prolific innovator", he's a visual artist as well as a muse for visual artists. An exacting yet awesomely spontaneous musician, he's performed around the world, in the bands of the famous (Dizzy Gillespie, Nina Simone, Paul Simon, etc.) and as renowned bandleader in his own right. He has an encyclopedic knowledge of and eidetic/aural memory for the history and breadth of world music.
To focus on his personal achievements, however, would miss the true mark of the man: he's an extraordinary promoter of the work of others, adept at combining artists of various sensitivities in unique projects, series and installations, sharing the stage with joy and elegance. As a composer, he's a fountain of melody; as a percussionist he's the centrifugal force, laying down ever more complex rhythms that ultimately spiral off into controlled vistas of color. In any grouping, he pushes his vision: to graft ever-new, ever-evolving methods of musical expression onto existing forms.
"I am a student of life", says El'Zabar. "I have very strong personal attachment to my colleagues, and I have loved every moment of the music we have made together. The entire collaboration for the Be Known: Ancient/Future/Music project has been an exhilarating revelation for which I'm very grateful".
Alex Harding, a powerful, dynamic and soulful saxophonist, has been making music since he was six years old; he's mastered numerous instruments but focuses on creating fireworks with baritone sax and bass clarinet. Having performed, toured and recorded with numerous legendary musicians including Lester Bowie, the Sun Ra Arkestra and Aretha Franklin, he's a musician at the top of his game.
Harding, an exceptionally affable, "mellow" man, noted that touring with the EHE is more than just a wonderful job. "The music we produce is unlike anything you will hear anywhere else. It's creatively liberating in that we have a structure within which we are allowed to communicate with each other with our instruments. It's a language, and at any time in the conversation, we can add, subtract, or go off in another direction. This is true of the new album, too; there is a certain setup or construct, but it's up to each of us to bring forth our own artistry".
Harding adds, "We have a trust in each other that results in creative freedom, and we enjoy one another's company in-between sets; it's an easy and respectful relationship between us. I have made a conscious choice to make music only with a certain type of musician, one with heart- and on the road is where you really find out about another person's heart. Touring is where you truly develop, and where the music comes to life".
He is enthusiastic about the potential listening audience for the new album. "The young people today are really curious about this creative music, they really LIKE it", he mused, holding up his cell phone, "And it's all here right at their fingertips", you dig?"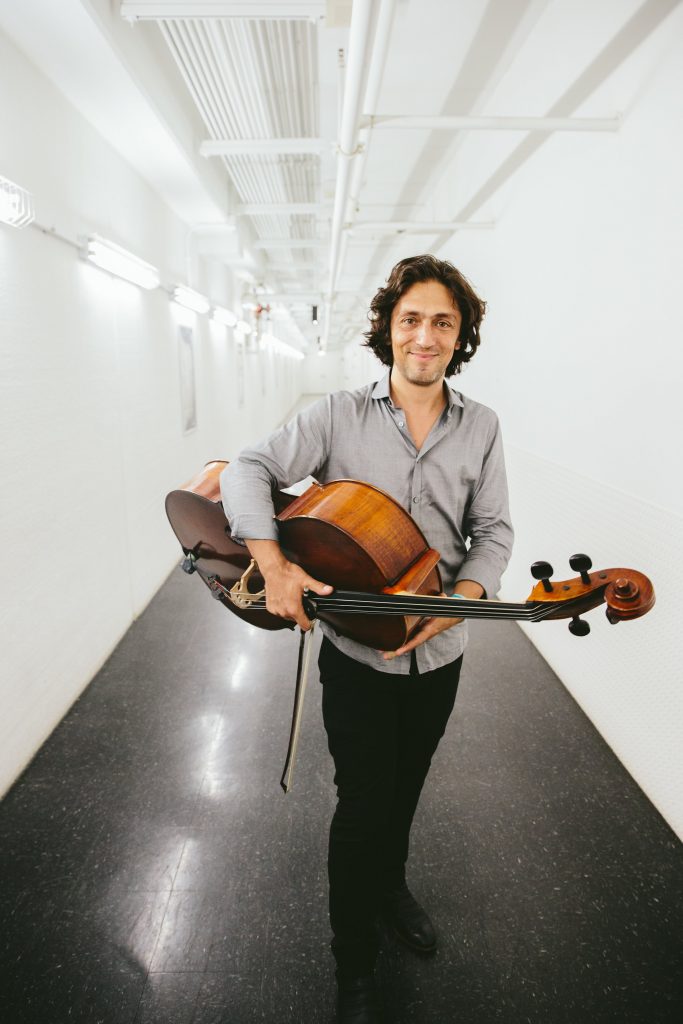 Russian born Ian Maksin, a classically trained cellist, composer, vocalist and producer, is known for blending many genres in unique ways. Described as "one of the most versatile and innovative musicians of his generation", Maksin asserts his main artistic goal is "closing the gap between generations and societies through art, and to make cello music accessible to everyone."
Maksin, who has worked with such diverse artists as Andrea Bocelli and Sting, first collaborated with El'Zabar when the latter composed and conducted the music for Expo Chicago 2017. "That was a real eye-opener for me. Playing that type of music, being there in the moment really expands your mind like nothing else". He enumerated, "Although Kahil, Corey and Alex are world class musicians, what happens when we play together goes way beyond our training. We get 'in the zone', and it is individually, personally transcendent."
He continued, "Although I have been a professionally active artist for over 30 years, the experience of playing with Kahil is 90% 'feel', both metaphysical and spiritual, and only 10% related to training. When I played with the EHE this summer opening The Millenium Park Summer Music Series, there was magic in the air! The experience is so special that while I generally perform as a solo artist, I will always agree to join Kahil in any way, shape or form."
About recording the new album, Maksin reflected, "Spiritmuse Records regards this music as 'deep listening'. On one level, it takes a certain background to appreciate it, because there are a lot of implications in it, going well beyond conventional jazz. On the other hand, it is also engaging for anyone, it's so charged!"
Trumpet and composer Corey Wilkes has established himself as one of the best improvising trumpeters in the modern era, with the skill and maturity to approach mainstream jazz standards in a unique and understated way, often combining them with a deep appreciation of hip-hop. He's worked with numerous jazz masters, including  Wynton Marsalis, Kurt Elling, and with El'Zabar for 18+ years, shaping a subtle and dynamic dual trajectory.
Wilkes described the new EHE release, Be Known: Ancient/Future/Music as "Channeling ancient to the future; the original sound and texture of vinyl is there, with all the special nuances you can only hear directly from a record." He described the recording sessions; "Alex, Kahil and I have been playing together for so long, we're like a family. Although we're a trio with 2 horns, Alex on baritone sax makes it sound like a bass.  With Ian's cello on top, the sound is given glissandos."
About El'Zabar's personal style and touring with the EHE, Wilkes remarked, "The time Kahil spent in Ghana gave him a certain sensibility; he has it within him, and we get it from him, not from texts; it's like a spiritual transmission… Kahil is always embodying rhythm, chanting, ringing bells: he's almost like a village himself! Together we came up with the concept of 'improvised soul', and that was the title of last year's Black History Month Tour. With Alex, we connect on a 'core being' level. In fact, after a couple of weeks on tour, I get to the point where I can't even feel the instrument, I'm outside myself, radiating pure music- without drugs! We are all just vibing out in the scene".
As to Spiritmuse Records, Wilkes notes, "This is their vision: a lot of groove-oriented forgotten music; they are real trailblazers".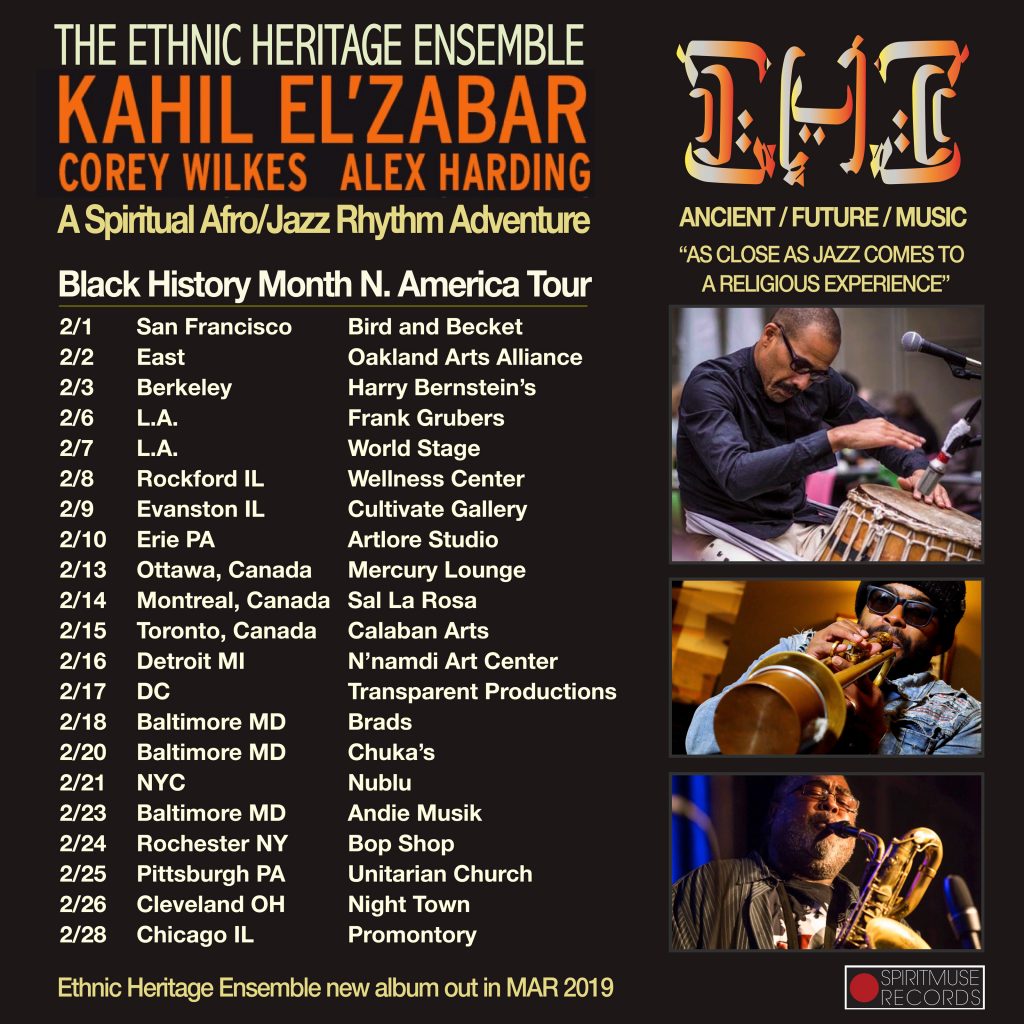 Spiritmuse Records: Unearthing gems from past and future, music for both mind and spirit, from spiritual and jazz, to left-field jazz electronica, field recordings and psych folk sounds.