We came, we ate, we walked, we ate, we listened, we ate, and we learned during our "Old San Juan Food and Culture Tour" offered by Flavors of San Juan in January of  2019.  This three hour tour in the old city section of San Juan, Puerto Rico took us on a culinary and cultural journey which included digesting both local foods and local history.
Our group of ten included two women from North Carolina, a family of three from upstate New York and a family of three from California. The diversity of age and geography made it even more enjoyable as we learned a bit about each other and what brought us together.  But back to the Flavors.
Our personable guide Angel greeted us with a welcoming smile at our meeting point in front of the Banco Popular building in a busy bustling area of old San Juan. When we were all assembled, there were quick self introductions and an overview from Angel. He told us that we would come away with three things – an increased knowledge of Old San Juan, a full stomach and a happy heart. Then we set off on our adventure.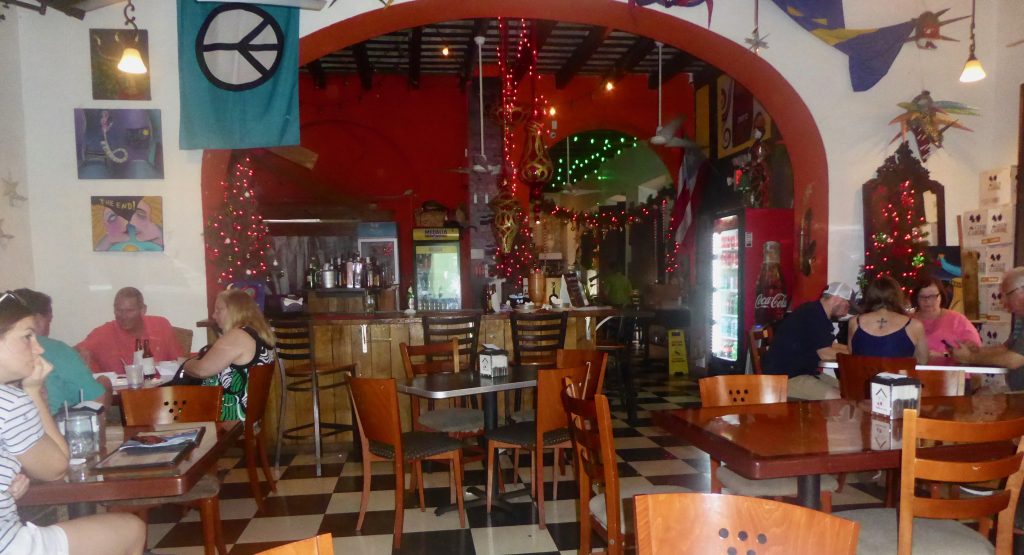 Our first stop, after a five minute easy walk, was Hecho En Casa, a four year old restaurant that began as a bakery and blossomed into a full food restaurant and bar serving a variety of Puerto Rican dishes.
We sampled the Empanadas, made by folding dough around a filling of meat, cheese or other ingredients, then baking or frying.  Ours were filled with ground beef. Angel told us that, "They are a thing in Latin American countries". We also sampled the Sorullitos, best described as sweet corn fritters. Mayan ketchup was served with the food. It is a mixture of ketchup, garlic, and Mayonnaise. 
We walked through the Plaza del Arma on our way to the next stop. Angel explained that the area was used by the Spanish soldiers for military drills. He also pointed out the city hall that has statues of three Biblical kings on the balcony.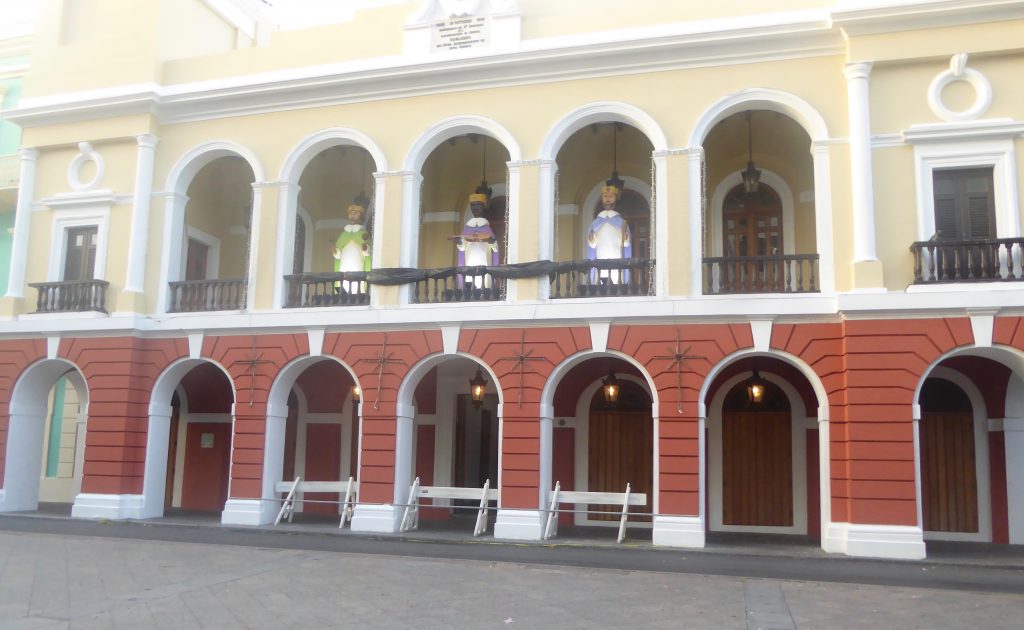 The kings are a holdover from Spanish times when they symbolized the Christmas holiday season. He said that Santa Claus was introduced by the Americans after they took over the rule of Puerto Rico from Spain.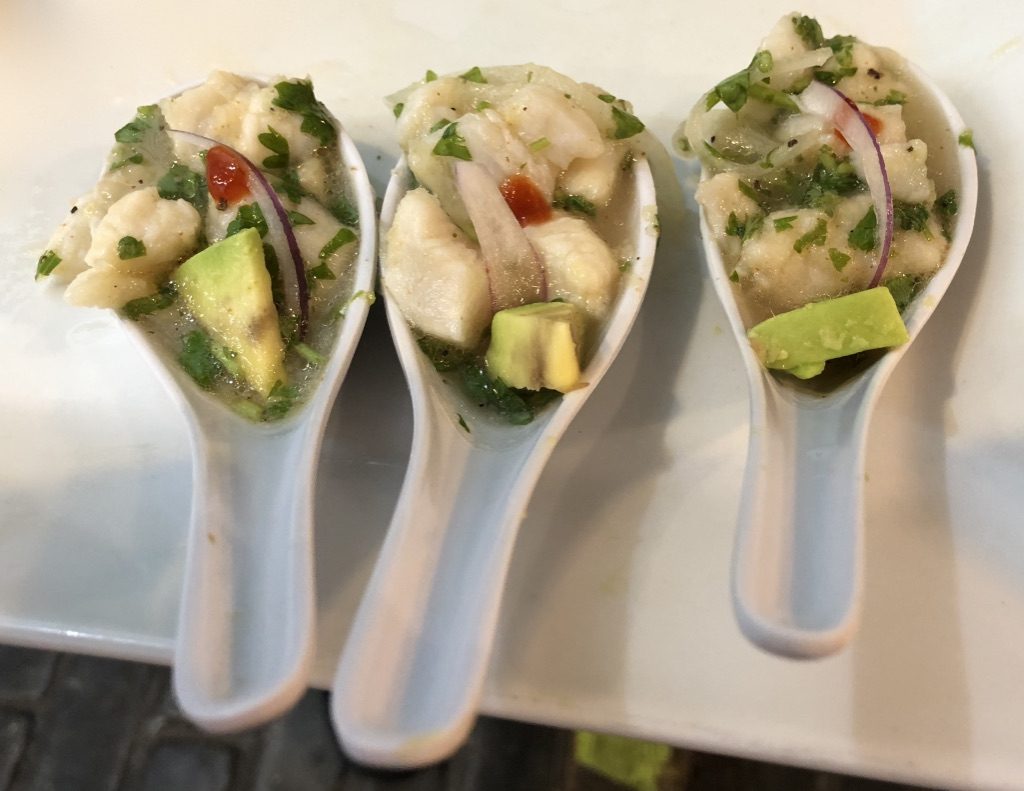 Our next stop was at Cafe El Punto where we were treated to Halibut Ceviche that was marinated in lime juice and onion. We also enjoyed some tasty Alcapurrias de la Casa – ground beef encased in deep fried plantain dough.
Angel noted that this and many other restaurants have masks on display. The masks are a throwback to Spanish times. Apparently Spanish soldiers used masks to scare their enemies
Angel then walked us down the Paseo de Sombrillos.  He told us that the hanging umbrellas actually have nothing to do with Puerto Rico, but were developed by a Portuguese artist as a tourist attraction. The crowds in the street looking up and snapping photos can attest to their popularity.
At the end of  the Paseo de Sombrillos we stood outside the gates of the Puerto Rican governor's mansion. Angel explained that the mansion was built as a fort by the Spanish. It was eventually abandoned by them as they built forts in more strategic locations.
Our walk to our next food stop led us past the world's smallest house, according to the Guinness Book of World Records.
Next we were treated to lemon popsicles from Senor Paleta. This shop adjacent to the Old Town wall was opened in 2015 and is doing a great business as tourists enjoy a great selection of sorbets and frozen popsicles.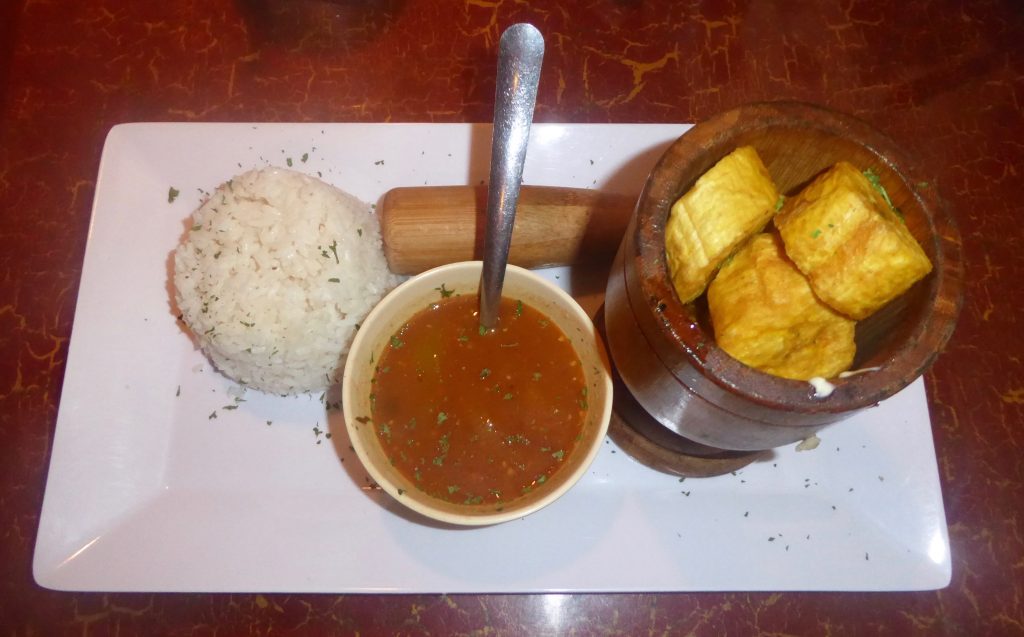 Our main meal and the highlight of the tour was consumed at Cafe Del Angel. We ate a do it yourself Mofongo. The Mofongo is Puerto Rico's national dish. It consists of mashed plantains filled with fish or meat. This was experiencial. We mashed our own plantains in a wooden cylinder and filled it with marinated chicken cubes. The Monfongo was accompanied by traditional rice and beans and a flavorful mojito. There is nothing like good authentic food.
And then it was time for dessert. We headed to the Chocolate. This cafe, owned by the Cortes family, opened in 2013 specializes in all sorts of chocolate concoctions We were treated to a Puerto Rican speciality which consists of a slab of chocolate and cheddar cheese which we dipped into a cup of hot chocolate. The trick is to pull the bar and the cheese out of the cocoa when the cheese starts to melt for a real flavor explosion. What a great way to end our dining.
Angel had shared three goals for us at the start of the tour and they were all accomplished. We learned a bit about Puerto Rican history and culture, we spent a happy three hours touring the Old City and making friends, and we certainly left with a full stomach. Touring with Flavors of San Juan Food and Culture Tour is a great way to learn about The Old Town and Puerto Rican food. Check them out when you are in Puerto Rico.