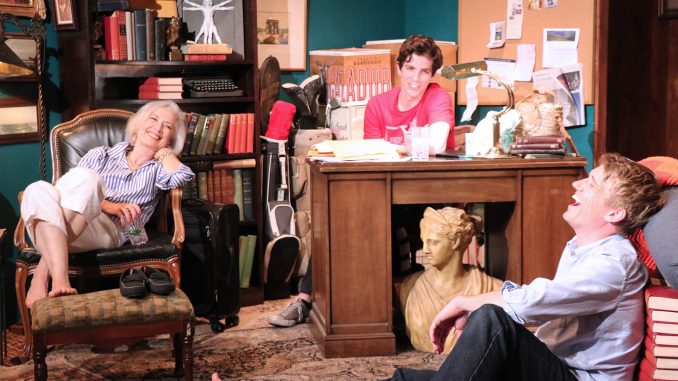 To celebrate the first anniversary of their new home in Hollywood, The New American Theatre presents playwright John Bunzel's dramedy with teeth, BOXING LESSONS. And no, it isn't about that popular (if bloody) sport – but instead about family and all those things we don't know and hopefully will never find out. Like the sport, it can get pretty bloody as Judy (Eve Danzeizen) and brother Ned (Luke McClure) are cleaning up their recently deceased father's belongings from his cluttered remote little hideaway in Washington State's San Juan Islands. It just so happens that dad was also a famed novelist with quite a following – especially around Christmas, the setting for his most famous book.
The circumstances of dad's passing are a little fuzzy, especially since his naked corpse was found floating in the Pacific; and his clothing and car were found on the shore. But little details like that must take second place to the task at hand – finding his elusive will. Enter ascerbic ex-wife Meg (Susan Wilder) and his strange adopted adult son Steve (Stephen Tyler Howell) to help escalate the chaos – followed by his old friend and confidante Billy (Bruce Nozick). Add Sheriff Bob (Eric Curtis Johnson) to the mix, and the gang's all here. A gang that may end up uncovering more than they bargained for.
As exposed secrets begin to pile up – along with dad's private papers and public doings – the family expose that is BOXING LESSONS heats up to tropical temperatures. Almost everything in the play is a spoiler, so suffice it to say that you're in for a roller coaster ride as questions are answered – but perhaps not with the answers these folks want to hear.
Director Jack Stehlin does a bang-up job of getting this crew to coordinate their disparate roles and create a new whole. Of course, he's lucky to be working with a talented ensemble cast who know just how to shock the audience in their understated way. John Iacovelli's set is perfect for the play – chaotic yet contained. Christopher Moscatiello's sound, Josephine Wang's lighting, and Florence Kemper Bunzel's costumes add just the right note of casual and sometimes unexpected.
BOXING LESSONS is a very dark comedy which pokes fun at life, death, and everything in between. It may not be everyone's cup of tea, but there is an undercurrent of honesty which cannot be denied. There is also the tension of a "who-dunnit" as all these pseudo-detectives try to get a handle on dad and what made him tick. In the process, they may also get a grip on who they are and what's important to them. In any case, the audience will remain a bemused spectator.
BOXING LESSONS runs through June 2, 2019, with performances at 8 p.m. Fridays and Saturdays and at 3 p.m. on Sundays. The New American Theatre is located at 1312 N. Wilton Place, Hollywood, CA 90028. Tickets are $35. For information and reservations, call 310-424-2980 or go online.