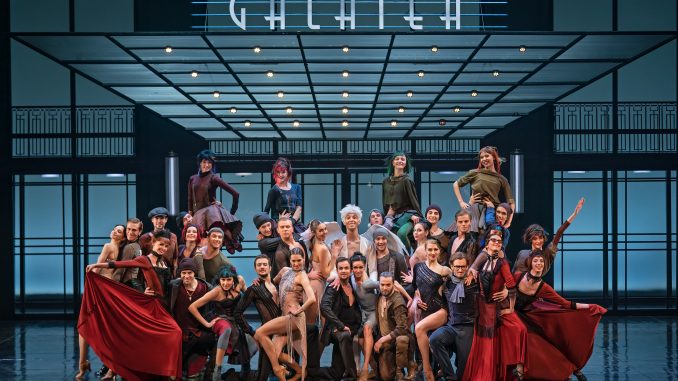 Eifman Ballet of St. Petersburg, (EBSP) known as Russia's most innovative ballet company, returned to the Auditorium Theatre of Roosevelt University, 50 E. Ida B. Wells Drive, Chicago, May 17-19, 2019 to launch the North American premiere of company founder and artistic director Boris Eifman's The Pygmalion Effect.
EBSP was incepted in 1977 by Eifman with the concept of a ballet theatre company as an incubator and home for his inspired works, to meld the rich and renowned tradition of Russian theatre with a new ballet repertoire. EBSP has since become known for staging cerebral/technically exquisite works that are dramatizations of both the universal psyche seen through the Russian perspective and explorations of complex human interaction. 
"What we create is a new type of theatre: Russian psychological ballet theatre," said Eifman, who emphasized how he and the company "try always to pursue our own path artistically and to develop our own style of art – not similar to the Western companies. We try to be individual." Commenting on that perspective, C.J. Dillon, Auditorium Theatre Chief Programming Officer, enthusiastically remarked, "It is always thrilling to glimpse into Boris Eifman's mind through his ingenious ballets."
The Pygmalion effect is a psychological phenomenon wherein high expectations lead to improved performance in a given area. Its name comes from the story of Pygmalion, a mythical Greek sculptor, who carved a statue of a woman (Galatea) and then became enamored with it. Unable to love a human, Pygmalion appealed to Aphrodite, the goddess of love. She took pity and brought the statue to life. 
Most interestingly, research psychologists have discovered that there is an opposite corollary: low expectations result in poor performance. Eifman's ballet is a deep, subtle and witty dance that delves into the phenomenon of how multiple layers of reality can be "sculpted" by the expectations of others.
The evening-length concert dance performance was a dizzyingly technically proficient and wildly original show set in an imaginary 1920-esque Broadway/Nevsky Prospekt world. There is virtually no resemblance here to "My Fair Lady", the version of the myth with which most modern viewers are familiar, in which the credit is given to the controlling gentlemen for his manipulating yet ultimately superficial transformation of a street urchin into what looks like "a lady".
Instead, we are instantly immersed in the world of Gala, a quirky and brilliant iconoclast who lives as an outlier. She observes Leon, a superstar ballroom dancer enter- and lose- a tournament. From then on, their worlds and paths intersect and divide. Who saves whom? Who is the clay and who is the molder? Who influences whom? Which one is free from the "robotic" lure of necessarily repetitive events and success?
Olga Shaishmelashvili's costumes are sophisticated and sexy, urban black like Zinovy Margolin's girdered set. Kudos to the mesmerizing lighting effects of Alexander Sivaev and Boris Eifman, which transform city street to marquee outskirts to the resounding strains of a score composed by Mozart and  a triumvirate of Strauss' –Johann, Eduard and Josef.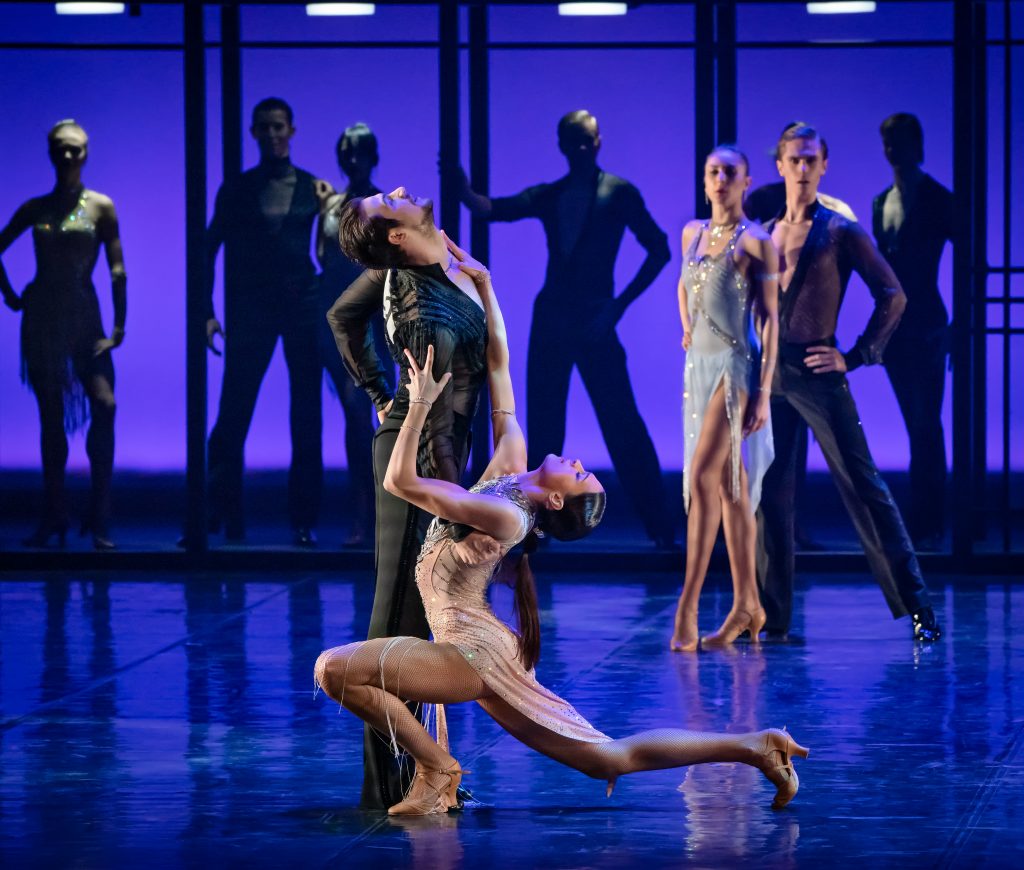 The opening night cast was incomparable, the remarkable company showcasing Oleg Gabyshev as Leon; Lyubov Andreyeva as Gala; Alina Petrovskaya as Tea; Dmitry Fisher as Holmes; Lilia Lischuk as Greta; and Igor Subbotin as Coach. This is Russian dancing at it's finest: heartbreakingly gorgeous performers flawlessly executing the most demandingly clever choreography, with a wit and style that are compellingly their own.
For information and tickets to all the great programming at The Auditorium Theatre, go to the  Auditorium Theatre website
All photos by Michael Khoury