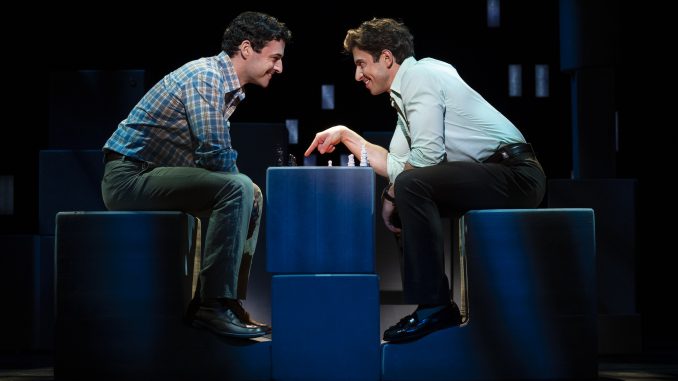 The groundbreaking, Tony Award-winning musical, Falsettos, is currently running for a limited two week engagement at Broadway In Chicago's James M. Nederlander Theatre (24 W. Randolph) through June 9, 2019. Written/created by William Finn and James Lapine, Falsettos returned to Broadway in an all new production from Lincoln Center Theater, and was nominated for Five 2017 Tony Awards, including Best Revival of a Musical. Lapine returned to direct an extraordinary cast in a production that was seen on PBS stations nationwide.
Falsettos revolves around the life of a charming, intelligent, neurotic gay man named Marvin, his wife, Trina, his lover, Whizzer, about-to-be-Bar-Mitzvahed son, Jason, their psychiatrist, Mendel, and the lesbians next door. It's a hilarious and achingly poignant look at the infinite possibilities that make up a modern family, as well as a beautiful reminder that love can tell a million stories.
This production was nominated for five Tony Awards including Best Musical Revival when it returned to Broadway in Fall 2016. The North American Tour of The Lincoln Center Theater Broadway production of Falsettos was directed once again by James Lapine. The cast includes Eden Espinosa (Trina), Audrey Cardwell (Cordelia), Bryonha Marie Parham (Dr. Charlotte), Max von Essen (Marvin), Nick Adams (Whizzer), Nick Blaemire (Mendel), and Thatcher Jacobs/Jonah Mussolino (sharing the role of Jason).
This production of FALSETTOS marks a happy reunion for composer/lyricist William Finn and playwright/director James Lapine. In 1981, Finn and Lapine's new one-act musical, March of the Falsettos, premiered at Playwrights Horizons' second floor 75-seat space. The story of a gay man named Marvin, his lover Whizzer, Marvin's wife Trina, son Jason, and their psychiatrist Mendel, March of the Falsettos was a critical success, described by The New York Times as "a musical find." It eventually moved to Playwrights Horizons' larger downstairs theater for an extended engagement, before enjoying a long run Off-Broadway at what was then known as the Westside Arts Theatre.
Fast forward to 1990, when a second new musical by Finn and Lapine, Falsettoland, opened at Playwrights Horizons. A continuation of the story of Marvin and his extended family in the early days of the AIDS crisis, Falsettoland repeated the success of its predecessor with rave reviews and a move to the Lucille Lortel Theatre. In 1992, the two one-act musicals were then combined into one, and opened on Broadway as Falsettos. The musical ran for over a year at the John Golden Theatre, and won Tony Awards for Finn's score and Finn and Lapine's book.
Seeing Falsettos at Broadway in Chicago was one of the best musical theater experiences I have seen so far this year. The story and its simplicity, yet timeless themes of love, everyday life, and loss, seen through the eyes and lives of modern, yet quirky individuals, become stuck in your heart and do not leave. You can easily connect to the characters, and the experiences they go through as the story progresses through time. Yes, love is love and can be wonderful, but the reality is that it is also messy, can be full of heartache, frustrating, and annoying!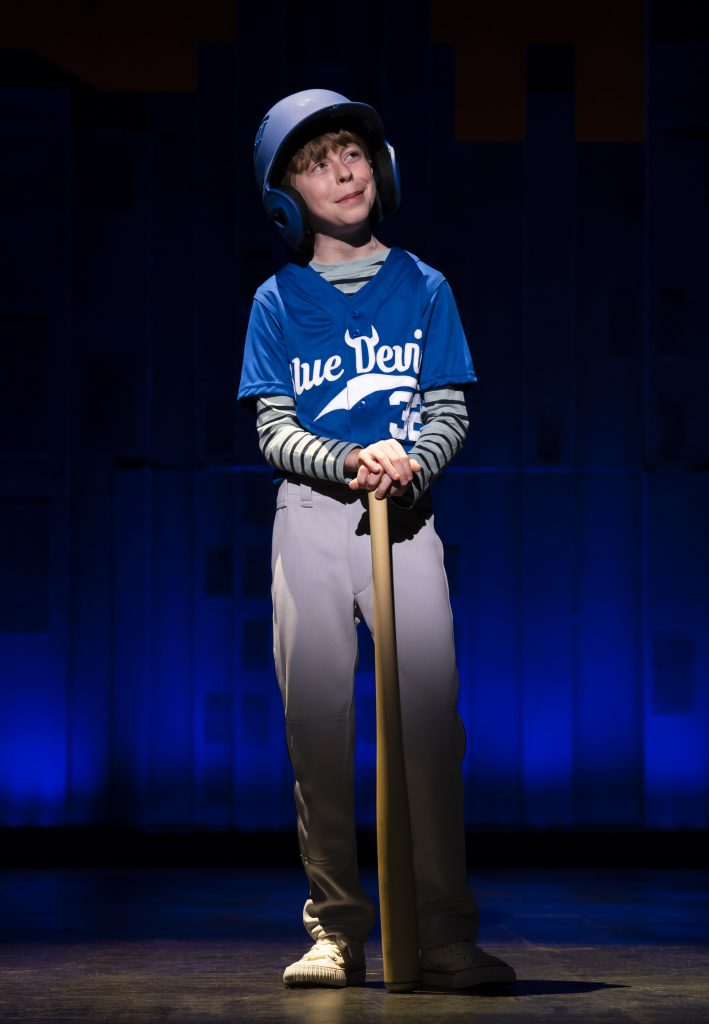 The entire cast was extraordinary and spot on. I could not have asked for more perfectly suited actors and singers to play the roles of such loved, comical, but flawed characters and personalities. Max von Essen (Marvin) is marvelous as a gay father who wears dad clothes and leaves his wife, Trina (Eden Espinosa), for his fashionable and sexy lover, Whizzer (Nick Evans). Cardwell portrays Trina with courage, heartache and humor, even if it's a simple breakdown while cutting vegetables in the kitchen for dinner. Trina and Marvin's traditional, Jewish New York family is broken and everything unwinds, especially for their young son Jason (Thatcher Jacobs/Jonah Mussolino), who is confused and angry. (Jason is actually the most sensible and emotionally mature character, among all those adults). Nick Blaemire plays the family's psychiatrist, Mendel, who ends up falling in love and marrying Trina, is a nice, fresh addition to the storyline.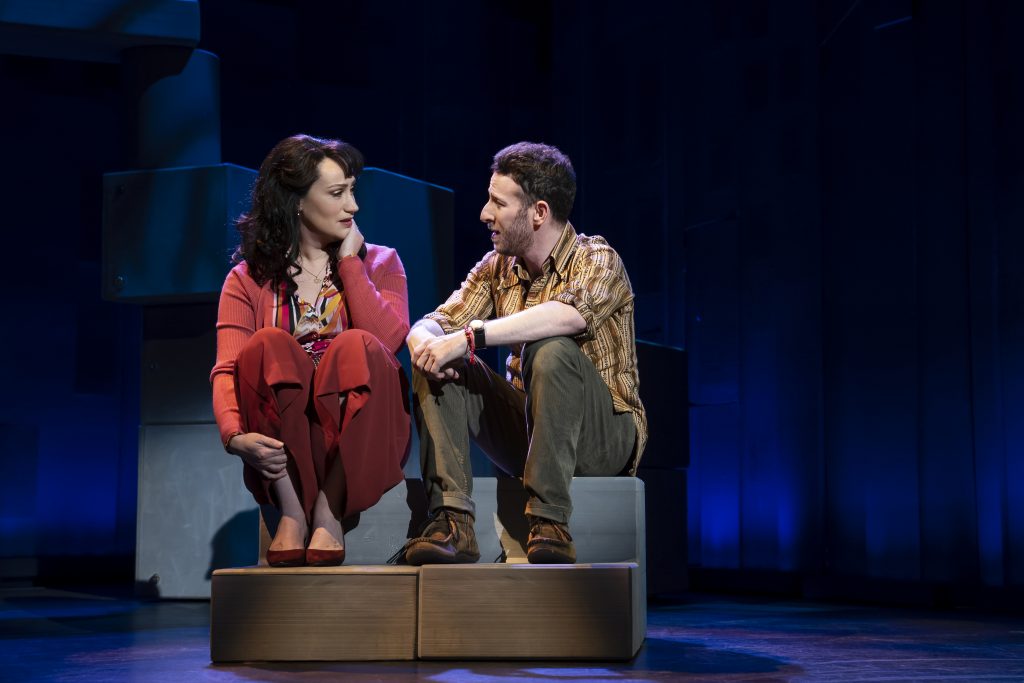 Then, there are the lesbians next door, played by Audrey Cardwell (Cordelia) and Bryonha Marie Parham (Dr. Charlotte). The lesbians, in my opinion, are the strongest singers in the entire cast, yet I felt that they were given the raw end of the deal. Unlike the other characters, their storylines are never fully developed, thus making it difficult to connect with them emotionally. On the other hand, they make up for th thin character development with their booming voices and fantastic acting skills.
The musical is simple and minimalistic, but skillfully involves themes, storyline, set design, musical numbers, and costumes. The best part was Trina's early 80's Jane Fonda workout spandex! As for the set design, I especially loved the huge blue blocks that were used as household furniture and much more, as well as the New York City skyline background.
Come see Falsettos before it leaves Chicago. You will find yourself singing along to the songs, while also laughing and crying throughout the story and for its characters' journeys. Do not miss this gem of a show.
*Photos by Joan Marcus
PERFORMANCE SCHEDULE
Tuesdays at 7:30PM
Wednesdays at 2PM and 7:30PM (no matinee performance on May 29) Thursdays at 7:30PM
Fridays at 7:30PM
Saturdays at 2PM and 8PM
Sundays at 2PM and 7:30PM (no evening performance on June 9)
TICKET INFORMATION
Individual tickets for FALSETTOS are currently on sale and range in price from $27-$98 with a select number of premium seats available. Tickets are available now for groups of 10 or more by calling Broadway In Chicago Group Sales at (312) 977-1710 or emailing Gr********@Br***************.com.
For more information, visit the website.