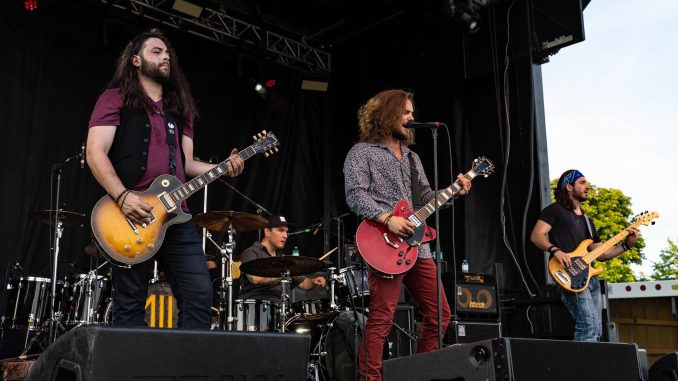 Saturated with authentic high energy and effervescent confidence, Toronto's Rock N Roll sensations Drop Top Alibi will be launching their new single like a rocket ship entitled, "Summer Nights & City Lights" on September 20, 2019.
Like a fiery volcano or a persuasive avalanche their music is a compelling illustration of what Rock n Roll once was. The faction was initiated by Brandon Gregory and Dylan Wykes in June of 2016. "Summer Nights & City Lights" was produced by Grammy nominated and five time Juno award winning songwriter and producer Michael Hanson from Glass Tiger. Named Rock Search Champions, Drop Top Alibi is a captivating force of nature.
I had a really awesome conversation with co-founder Brandon Gregory regarding the band's music, influences and the brand new single……Aside from Drop Top Alibi, Brandon supports himself as a musician.
When you're not doing Rock N Roll with Drop Top Alibi what are you doing?
Well I'm a freelance musician playing for different restaurants, bars, corporate events and I teach music part time. I have about 20 students so that covers my expenses. I play to live and working on making Drop Top Alibi happen.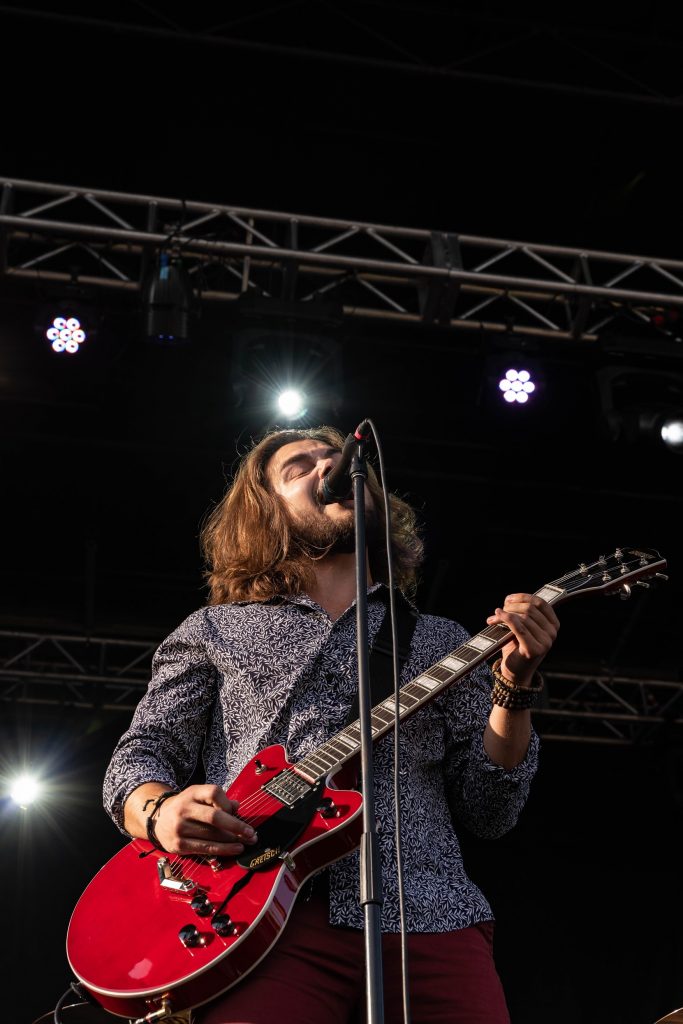 What do you teach?
I teach guitar, vocals, beginner piano and if someone really wants to pay to learn the bass and they can't find a teacher I'll do that.
How did Drop Top Alibi originate?
Myself and lead guitarist Dylan Wykes met when we were about 18 years old. Dylan joined a band from my high school. We went to different schools, but we had a mutual friend who was my drummer at the time. He ended up joining the band. We stuck together and it's been about nine years now. Drop Top Alibi, with the line-up we have now is only about a year and a half old, but the name has been around for about three years. It was always Dylan and I. We had a few guys in and out, but now this is the real deal. This is the best four piece we have ever had, everyone is on the same page. Things have been going really well especially over the last six months.
I love your music.
Thank you, is Rock 'n' roll your go to? Are you into the heavier side of rock?
Come on my email is rockstar journalist.
You never know what a person is going for with that phrase. Rock Star is kind of like its own mythical creature at this point.
What are your three favorite and influential bands of all time?
Those are kind of two different questions. Without a doubt the most influential to me has been Soundgarden, Led Zeppelin, and the early era Aerosmith, the first four records in the 70s. My favorite is still the Aerosmith thing, Soundgarden for sure, but honestly, I absolutely have an affinity for Queen. I absolutely love Queen. 
Who writes your music?
I kind of write 70 or 80 percent of a tune and just bring it to rehearsal. Sometimes the mood changes, or somebody has a verse or a lyric idea or counter- melody or a melody that ends up working better, it's become a lot more collaborative. The original ideas and a lot of the main riffs, a hook happening in the chorus, it's usually myself who comes up with that.
What was the inspiration for the new single? Did you write it?
I wrote the main theme of it a few years ago actually. It sat collecting dust because I didn't really have anything after the second verse. I didn't have that midsection or that breakdown, I didn't have any of that. When I wrote the first verse and plugged in the guitar parts for that I think I was 20 years old, maybe 21 and I was a student, I was playing in a band and partying a lot. It was very much that I had stars in my eyes. I wanted to be a musician for the rest of my life, and it didn't matter how big or small that was, as long as I could do it. Understanding that the light can be blinding and that the light could kill you, but not caring at all, just staring right into it like "Summer Nights & City Lights….Getting me high on their delights….gotta live fast and make a sound….momma don't you frown…" It's like look I'm going for this, if I'm one of the unlucky ones who wastes away, at least it will be a great ride. Obviously, I'm a little more mature now, but that was very much the idea of that. I always really loved it. I never could finish it. I put it through the ringer once we met Michael Hanson and everybody really liked it. The four of us finished an arrangement, Michael Hanson had a couple of ideas for extra texture, and some changes. He was much more collaborative on the studio side, but without the three guys that I have in my band that song would've never been finished and if it ever was finished it would not of sounded the way it sounds right now.
What is your ultimate stage fantasy?
I'd love to stare out into an open air festival with 60 or 70,000 people where it's just very much a sea of heads as far as you can see, and I want to take a Polaroid picture just like Eddie Vedder did. I want to just have that Polaroid snap-shot until all I see is white.
What's it like working with Michael Hanson?
He's a very nice guy. He kind of sits there, let's you do your thing, doesn't really say much, but then he'll kind of chime in. He hasn't really been interjecting too much. Then he'll say, " I don't know if that riff note for note is there, but show me exactly what that means…show me that riff…if I wrote this riff it would kind of go a little more like this…." everyone kind of puts their flavor in it and if the riff sticks like it is or the vocal harmony is brilliant……He produced the songs. We went to him because his strength is in song writing, and we really wanted to see if there was some extra flavor that the songs could have and he was able to add some really impactful moments to the songs, and we are excited to release them.
The official website for Drop Top Alibi
Follow Drop Top Alibi on the web:
Twitter @drop_top_alibi
For Interviews contact wo**********************@gm***.com