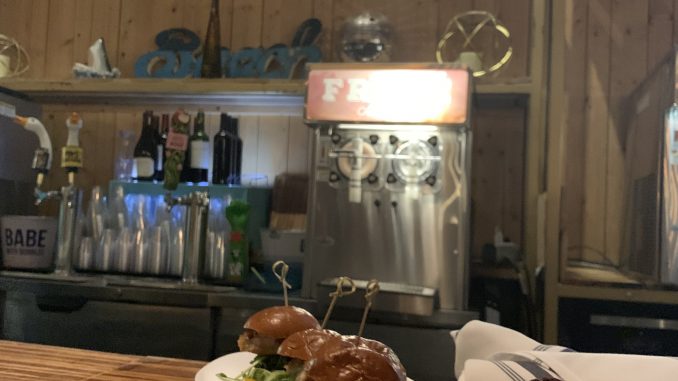 Consuming wine in moderate amounts is linked to a lower risk of heart disease. Specifically, red wine contains resveratrol, an ingredient that has potential heart healthy benefits. White wine boasts brain boosting powers as well as lowering cholesterol. Being surrounded by trees, bodies of water, everything nature reduces stress. Picture drinking wine coupled with panoramic lake views, the beach a couple of steps away, planked by trees on either side combining two ways of relaxing and taking care of yourself. Wine Fest at the beach's romantic Carribean- feel venue, Shore Club, provides an upscale outlet for fun under the sun until the sky is lit up with stars and the moon. Navigating through the diverse and friendly crowd is the toughest part of this event where wine overflows and dance inducing music plays throughout the three main open floor plans.

Lines started to form early as people gathered excitedly to wind down and enjoy the last days of summer. Shore Club is sectioned off into three areas, two outdoors with the covered middle serving as the main bar while patrons mixed and mingled sampling red and white wines, prosecco, brut and rosé. Selections included popular brands like Ruffino, Oyster Bay, Terlato, Stone Cellars, Woodbridge, Chandon, Meomi, Korbel, and PRP Wine International which has been serving at home wine sampling since 1989 with a portfolio of 75 wines to choose from and starting at $39 for two people, it's a steal of a deal. Fan favorites included a sweet, smooth red wine Chevalier de Bayard and Chandon Rosé that tingled with a soft citrus taste. For a healthy beverage alternative, Kevita supplied sparkling probiotic drinks with flavors like lemon cayenne, watermelon rosé, ginseng mandarin to help your gut and stimulate digestion as well as a flavor with 2 tablespoons of apple cider vinegar to jumpstart metabolism when taken in the morning. A master brew kombucha fermented from black and green tea with natural probiotics and a little bit of caffeine hit the spot.

Choosing from a variety of life sized classic games like chess, connect four, or bags was the perfect time to kick back, sip some wine and compete to win with your toes in the sand. Comfy cabanas lined the back rows, inviting you to sprawl out and gander at the sun setting scenery across the beach while soaking in Chicago's majestic skyline. Cotton candy skies illuminated off the lake as people posed for pretty pictures.

Shore Club features an extensive cocktail menu as well as a variety of delicious and healthy food options to fill up after an evening of pleasurable wine imbibing. Nothing quite like taking in summer sunsets and moonlit skies on the beach. Cheers to loading up on wine's antioxidant properties and celebrating all things wine!

If you missed out on Wine Fest on the beach, be sure to get tickets to this week's event, Whiskey Festival on the beach!

For more information and upcoming events check out: www.RiverNorthFests.com

Photo Credit: River North Fests