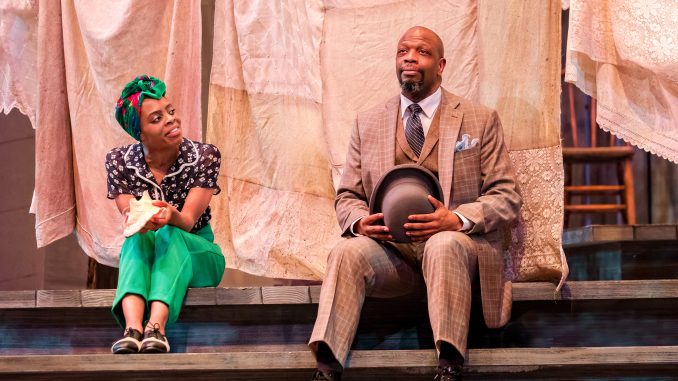 Drury Lane presents the Tony award-winning production of The Color Purple; book by Marsha Norman; music and lyrics by Brenda Russel, Allee Willis, and Stephen Bray. The show runs now through November 3, 2019.
The Color Purple by Alice Walker is one of the most emotionally evocative stories in the African-American culture. The book told the story of how one woman, given no choices in life learned to be silent and do as she was told to survive. Most women Today would consider Celie weak, but if they look beneath the surface,  the fact of the matter is that she was a survivor. 
The Story of Celie is heart-wrenching, yet as the story unfolds you find that love sustains even the most broken spirit. This production of The Color Purple encompasses the perfect balance of emotion; when the storyline becomes a bit too heavy, the comedic moments lightens the mood.
Director Lili-Anne Brown puts together an amazing cast. The chemistry was just right, especially that of Michelle Haskins (Sofia) and Gilbert Domally (Harpo). Each time the two of them took the stage; I couldn't take my eyes off of them. They had a magnetic stage presence and possessed great vocals. This does not take away the fact that Eben K. Logan (Celie) also does a tremendous job stirring up emotion in the audience. Her performance was believable and heartfelt. 
The only criticism I have is that the staging made it difficult for some of the audience to get the full visual of what was taking place during some of the scenes. Overall, the production was well put together.
I thoroughly enjoyed the show and it was evident by the standing ovation from the audience, they felt the same. This was one of my favorite production so far this year. Tickets can be purchased through Ticketmaster at 800-745-3000 or visit Drury Lane Theatre
Photos by Brett Beiner Photography