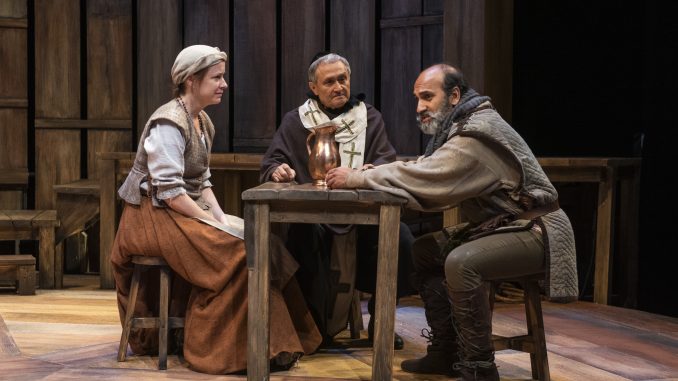 Northlight Theatre Company opened its 45th season, and is currently presenting Jane Anderson's Mother of the Maid through October 20, 2019 at Northlight Theater, located at the North Shore Center for the Performing Arts, Skokie.
Mother of the Maid features Kate Fry (Isabelle Arc), Kareem Bandealy (Jacques Arc), Hayley Burgess (Monique),Ricardo Gutierrez (Father Gilbert/Chamberlain/ Guard/Scribe), Casey Morris (Pierre Arc), Grace Smith (Joan Arc) and Penelope Walker (Lady of the Court).
This is a historically based imagining of the story of Joan of Arc's mother, a beleaguered peasant in rural France, who struggles to understand Joan's bewildering visions, tumultuous plunge into fame and war, and predictable denunciation and inevitable death at the stake.
Isabelle Arc clearly suffers throughout, and does much to succor the mystic/Maid, but the play is a confused affair, part oddball comedy, part family squabble, part Biblical pastiche, part maternal narration. It's further complicated by inexplicable modern language and unnecessary vulgarity, which clash with the costumes, the set, the gestalt of the era and the story of a 15th Century incipient saint.
Casey Morris as Joan's brother Pierre is cast as a bumbling, angry toilet-mouthed liar. Kareem Bandealy as Joan's father Jacques Arc, projects in one note only: enraged. Grace Smith as Joan herself fully displays the range of affect one would expect from a teenage untutored visionary, tool (later discarded tool) of the Church and of a desperate uncrowned wannabe King. In fact, Smith was intriguing to watch, portraying a radiant, focused, mad ecstasy wholly in keeping with the expected mystique. Ricardo Gutierrez, a superb local actor, particularly enjoyable in a comedic role, was wasted in the bland dialogue of his triple casting in this play. 
 Kate Fry as Mama Arc often presents herself as a giddy suburban housewife. Yet, her sincere efforts to support her bewildering daughter, and to succor the benighted girl throughout her travail are the most rewarding in the play. However, even these are injected with confusing, unnecessary harangue and actions. The scene where she is trying to treat Joan's diarrhea is truly bizarre, yet simply the most extreme example of Madame's focus on Joan's toileting.
Thanks to the creative team including Scott Davis (set design) for creating a medieval ambience; Izumi Inaba (costume design) for tattered believable garments and the Lady's terrific Court attire; Christine A. Binder (lighting design), for an easy on the eyes production; and Andre Pluess (sound design) for appropriately eerie/fraught accompaniment to the tale. 
All photos by Michael Brosilow