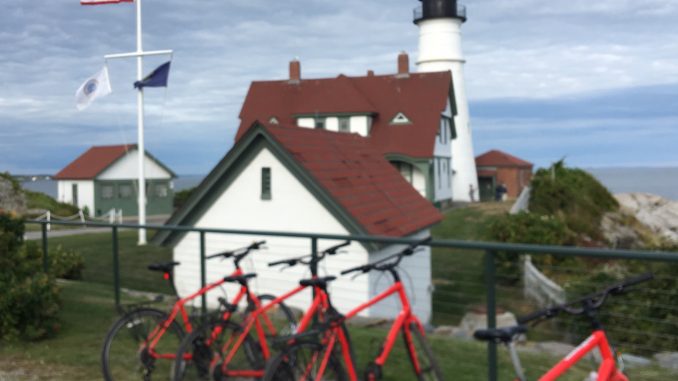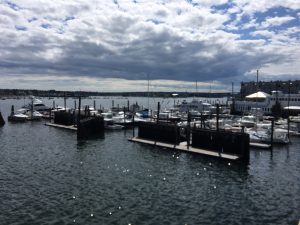 Photo by Mira Temkin
White clapboard houses dot the landscape, cool breezes blow off the Atlantic and the leaves are just beginning to turn. This is the ideal time to visit Maine, when the crowds have thinned and the state is yours to explore. Travel up and down the rugged coast and you'll find luxury resorts and charming little towns everywhere you go.
Portland – a historic seacoast town on Casco Bay
Plan to spend several days in Maine's largest city. It's a hip, happening town with a cool artsy vibe. Start at the waterfront. Should you grab a succulent lobster roll from the fresh catch of the day at Luke's? Or head for an afternoon on the water, learning to pull lobster traps? I say, do both! It doesn't get any fresher than seafood from the source at Luke's, where you'll dine right next to the working waterfront. Famous for their lobster rolls, Luke's serves up a variety of delicious crab, shrimp and clam specialties.  The Lobster Boat Tour from Lucky Catch Cruises is educational and so much fun. Don an orange apron and a glove and you're ready to discover what comes up from the bottom of the sea. Depending on the size of the lobster (and they do measure), some of the catch gets thrown back to continue growing. Afterwards, buy a lobster from the tank and the Portland Lobster Company will cook it for you!
Photo by Mira Temkin        
Tour Old Portland
The best way to get a feel for the city is to hop aboard the Portland Discovery Tour. Our knowledgeable guide pointed out the iconic sites such as Henry Wadsworth Longfellow's home, Victoria Mansion and the bustling Old Port. We also stopped at Portland Head Light House, the oldest and most photographed lighthouse in the country to take our own images. Check out their boat tours, too.
The 2018 Restaurant City of the Year
The culinary scene is alive and well in Portland with more than 400 restaurants, the reason why Bon Apetit named Portland the "the 2018 Restaurant City of the Year." Get a taste of the best with Maine Food for Thought Tours that lets you sample Maine's bounty from six world-class restaurants as you walk through this foodie destination and learn more about their locally-sourced dishes. This awesome tour helped us decide where we wanted to return for more. .
Where to Dine
We had tasted some of Evo Kitchen's Mediterranean specialties on the food tour and returned for dinner another night. Evo stands for evolution and Chef Matt Ginn (Winner of a Chopped Episode) uses local and seasonal ingredients to create a unique food adventure. From humus, Baba Ganoush and beet salad to skirt steak and prawns, these delicious dishes are meant to be shared. Leave room for dessert because the baklava ice cream is to die for. Other dining recommendations include: Union, Solo Italiano and Mami. Don't miss The Holy Donut, made fresh every day with Maine potatoes. Indulge in their creative flavors like pomegranate, maple bacon, and my personal favorite, chocolate sea salt.
Where to Stay
Black Point Inn – A classic Maine getaway
With just 25 luxury rooms and suites, this historic oceanfront hotel is located on Prouts Neck, just minutes from bustling Portland. Surrounded by water and beaches on three sides, you'll discover hiking, yoga on the lawn, riding bicycles or just relaxing. Dine in the Chart Room or The Point, overlooking the water, Black Point Inn is the ultimate romantic escape.
Bring the family to Sebasco Harbor Resort
As I wandered around the expansive resort at night, I thought I had stepped onto the set of "Dirty Dancing." But it was just a group of young people having a good time in 2019. Located on Casco Bay, Sebasco Harbor Resort offers a range of accommodations from cottages to luxury suites and family-friendly activities to keep you busy or just relaxed. Head for the waterfront for boat cruises and kayak rentals. Play tennis, golf or lawn games. Get a massage at the Fair Winds Spa. Have fun at the Quarterdeck with candlepin bowling, ping pong or arcade games. Check out the weekly lobster bake. Dining at The Pilot House is a special treat. Right on the water with exquisite coastal views, the food was matched only by Maine's freshest flavors, decadent desserts and amazing wine list. The lobster with all of the trimmings was fabulous and the salmon was delectable. Enjoy more casual dining at Ledges Pub & Patio. At night, the resort lights a bonfire for s'mores and a singalong. The resort is open from mid-May to October and some weekends.

Ship Ahoy at Maine Maritime Museum and Boat Tours
Explore the Maine Maritime Museum in Bath, offering both an indoor/outdoor museum with exhibits and hands-on activities. Cruise the Kennebec River on a tours from one – four hours and discover Maine's most iconic lighthouses.
Sweetgrass Winery & Distillery
Discover an authentic taste of Maine from the best wines and spirits grown from the bounty of fruits and grains. And the company makes delicious cheese as well. The winery offers two tastings $3 or $5 with a souvenir wine glass. Their Cranberry Smash made from Maine cranberries is sensational. Open from May 1 – December 31.
This year, visit Maine and make your own special moments!