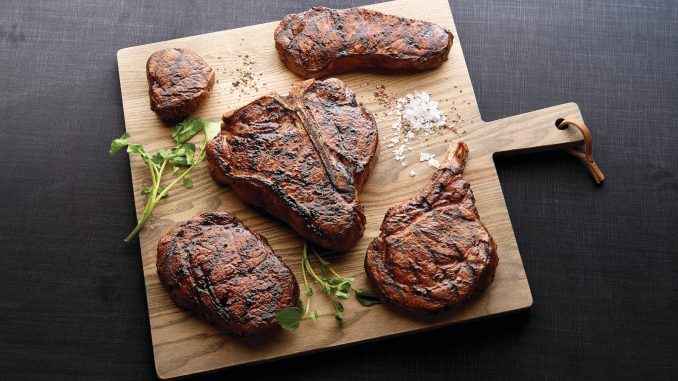 41 years ago, a pair formed over their love of a "million dollar burger" founding Morton's The Steakhouse's first location in Chicago. Across the country, on the west coast that same year, Napa Valley became home to the first batch of Merlot from Duckhorn Vineyards producing a harvest of 800 cases of Napa Valley Cabernet Sauvignon and 800 cases of Three Palms Vineyard Merlot. Bringing the gold standard of steak and hand-selected Duckhorn wine together for "A Taste of Two Legends", an event featuring a five-course, chef-curated dinner you'd repeatedly love to indulge in, high cholesterol be damned!
Warm, welcoming smiles filled the cozy, dimly-lit private dining area as guests sat family-style at three large circular tables. Amidst chatter and laughter, friends at one table celebrated together, others started getting to know each other quickly over the bounty of hors d'oeuvres, seafood salad, amuse bouche, beef course and last but definitely not least,the "cheese please"! A sense of community emerged as folks warmed up to one another, partly due to the wine, the delectable food high, and/or the close proximity. Either way, there was a lovely addition of friendly conversation to enhance a superbly prepared culinary treat. The wine pairings perfectly complemented each dish, lighting up taste receptors and creating a blend of rich, intensified flavors as your mouth watered for more. While each meticulously crafted plate made its way to the tables, flashes throughout the night saved images forever on people's phones, a sure sign that this meal was one to remember.

Recalling the memorable menu items starts with prosciutto wrapped figs, a sweet and salty combo that is satisfying with herbed goat cheese and black pepper honey. The Snake River Farms Wagyu Ribeye Cap is decadently marbled with a juicy center and served with roasted garlic cream and citrus herb gremolata. Followed by a Snake River Farms Gold Manhattan Steak notably with an all over caramelized crust and tender beef served with roasted Maitake mushrooms, truffle parsnip puree, red wine demi-glace. The Maine Lobster Avocado Salad paired with hearts of palm, bosc pears and a tarragon vinaigrette has the perfect textures and tastes to freshen the palate. Honeycomb with Parmesan cheese? New dessert favorite.

Wine favorites, you ask? Red wines won over hearts with their antioxidant properties and softly delicate finishes. Much love for and highly recommend the following: Goldeneye, Pinot Noir, Anderson Valley, 2016, Duckhorn Vineyards, Merlot, Napa Valley 2016 and Duckhorn Vineyards, Cabernet Sauvignon, Napa Valley, 2016. Yes, after taking in all the deliciously appealing makings, if you're wondering, body transcendence occurred.

"Morton's The Steakhouse and Duckhorn Vineyards are renowned institutions recognized for offering the highest standards of luxury," said Tim Whitlock, COO Morton's The Steakhouse. Indeed, hosting this wonderful experience brought together "two legends" and much more; kindred spirits to relish the extravagantly pleasurable wine paired meal and the real deal: pairing with one another.
Prime beef fans and fine wine connoisseurs, rejoice! This brilliant combination gives you life! From the amiable staff and accommodating service to the immaculate delivery of a spectacularly flavorful taste buds dance party, visiting Morton's Steakhouse is a must-do. This steakhouse puts the "winning" in the awards it's received.

Check out Morton's Steak Bible and Morton's The Cookbook to learn how to impress your next dinner party or stop by any of their locations listed at www.mortons.com for "The Best Steak…Anywhere"

Photos courtesy of Morton's

MORTON'S THE STEAKHOUSE
Chicago (The Original): 1050 N. State St., 312-266-4820
Chicago (Wacker Place): 65 East Wacker Place, 312-201-0410
Naperville: 1751 Freedom Drive, 630-577-1372
Northbrook: 699 Skokie Blvd., 847-205-5111
Rosemont: 9525 W. Bryn Mawr Ave, 847-678-5155
Schaumburg: 1470 McConnor Parkway, 847-413-8771