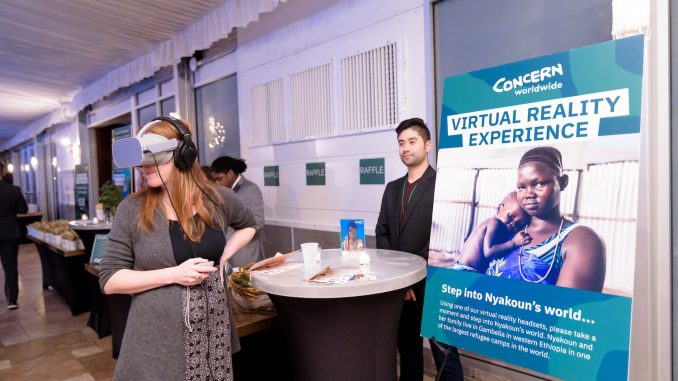 Have you heard of Concern Worldwide? I was not familiar with this organization and was happy to learn more about them, their mission, and annual fundraising event. Concern Worldwide is an international organization, with US headquarters in Chicago, that spreads across 24 countries and focuses on the most vulnerable communities within them.
As noted on their website, their mission is to help people living in extreme poverty achieve major improvements in their lives that last and spread without ongoing support from Concern. The organization was founded founded in Ireland in 1968 by a small group of people who joined together to respond to the devastating famine in Biafra. The founders launched a nationwide appeal that raised over a quarter of a million pounds in three months, and "Africa Concern"—a non-governmental, non-denominational, humanitarian aid organization—was born. As the work spread beyond Africa in the succeeding years, the organization was renamed Concern Worldwide.
Concern Worldwide notes that, in over half a century, it has worked in more than 40 countries. Today, they are working in 24, with a focus on the poorest and most vulnerable communities with 4,000 workers of some 50 nationalities.
Concern Worldwide US and the Thanks-for-Giving Committee hosted the 10th Annual Thanks-for-Giving Gala on Friday, November 15th at Galleria Marchetti. The annual celebration offers thanks to Concern's community of humanitarians and seeks to raise $100,000 to support Concern's programs to end extreme poverty in 24 of the world's most vulnerable countries. The event has raised over $700,000 combined over the 9 previous years.
Concern Worldwide US CEO, Colleen Kelly kicked the night off and Concern's roving reporter and special guest, Kieran McConville, drove home Concern's mission and inspired everyone in the room. Other notable attendees included Jim McShane, CEO of The McShane Companies and Vice-Chair of Concern Worldwide US along with Dolores Connolly, CEO of Sterling Engineering and Concern Worldwide US Board Member
Thanks to John Walcher of Toomey & Co. Auctioneers who led a riveting donation-drive and the overwhelming generosity of corporate supporters such as The McShane Companies, Cobb Strecker Dunphy and Zimmerman, Sterling Engineering, Archer Daniel Midland, DemandWorks Media, Mutual of America and more; the Thanks-for-Giving Gala raised more than $148,000! The evening finished off with dancing, s'mores, and an active photobooth. 
To learn more about Concern Worldwide US and how you can get involved, visit their website.
Photos courtesy Concern Worldwide US