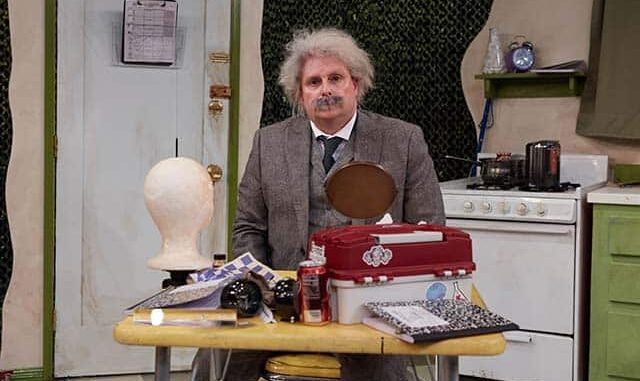 Review By Kathy Carpenter
"We cannot solve our problems with the same thinking we used when we created  them." – Albert Einstein
North Coast Repertory Theatre continues it's "Theatre to film" streaming with one man show, "Einstein Comes Through".  Written by David Ellenstein & Marc Silver, it is directed by Davie Ellenstein and  Stars Jake Broder.
The art of performing a one man show takes a special talent as one takes on the role of several characters throughout a show. Jake Broder was a Rockstar. Taking on Hank, an ordinary man, his wife, and Einstein.  His Einstein was a masterpiece. Each role revealed distinguishing characteristics that demonstrated his mastery.
The story takes place in the fifties or sixties circa living area. There is a huge photo of Albert Einstein on the wall. This is the home of a man called Hank. Hank is a little off the grid. Living in his own head, he is an actor, who has been portraying Einstein and has a great love of the man.  The play is noisy because timers of different kinds go off at various times.  As Hank, he documents  his recollections of his past in a journal, and so bits and pieces of his life unfold.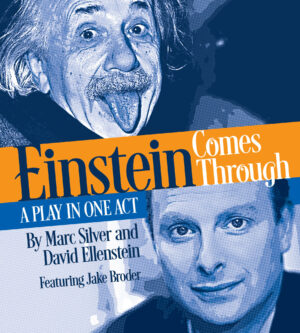 Einstein emerges In between some of the timers. It's at these times Broders' acting shines.  I loved his Einstein. My favorite part of the show was done with the magic of a file.  It bounces back and forth between Hank and Einstein like they are having a conversation. This was a truly exceptional piece of work.
Einstein Comes Through is definitely worth your time. Reserve your ticket now and keep theatre alive.
Streaming April 28 – May 23, 2021
Up Next
Becoming Dr. Ruth
By Mark St. Germain starring six-time Tony and Emmy nominee Tovah Feldshuh (Broadway's Golda's Balcony), (TV's "Crazy Ex-
Girlfriend" & "The Walking Dead").
North Coast Rep's final show of the season DR.
GLAS by Jeffrey Hatcher. This psychological thriller slowly unravels a life-and-death moral dilemma of passion and desire. Starring Daniel Gerroll (TV's "The Blacklist) and
(film "Chariots of Fire"), this streaming World Premiere is a gripping finale to North
Coast Rep's streaming season. Reserve your tickets now at northcoastrep.org.