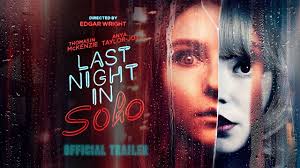 The time is the present, and the place is England. The gentle and innocent Eloise has been raised by her loving grandmother since her mother's death but now seeks to spread her wings in search of her dream – to become a fashion designer. But who is that smiling woman she keeps seeing in the mirror? To reach her goal, Eloise travels from the English countryside to London to study and make her mark in the competitive fashion industry. However, life in London proves to be a little tougher than she anticipated. After all, she's a country girl surrounded by the sophisticated women who are her competition – and especially by a fashion school roommate who makes her life hell.
To escape the stress, Eloise finds a rented room in Soho, the seamy heart of London – but her change of scene also mysteriously leads her to a portal opening into the 1960s. Soon she is unexpectedly traveling back and forth between past and present. It is in the 1960s that Eloise (Thomasin McKensie) encounters the stunning, luminous Sandy (Anya Taylor-Joy), a talented singer just waiting to be discovered.  At first it's fun (even if a bit unsettling) to track Sandy's glamorous life, a life that Eloise has only dreamed of. But then Sandy's life takes an unexpected turn to the dark side, where dreams soon become nightmares. And Eloise finds that she must go along for the ride – wherever it takes her.
Skillfully directed by Edgar Wright, who also conceived of the story, LAST NIGHT IN SOHO is a gripping and terrifying journey into what happens when innocence must survive in the presence of evil. Steven Price's scary music inexorably leads the audience down the rabbit hole, where past and present mix and blend and identity becomes a toss-up. The film highlights the acting chops of the two key characters, Eloise and Sandy, as their personalities seem to fuse. LAST NIGHT IN SOHO also features a few actors you'll remember from the 1960s: Rita Tushingham as Eloise's grandma, Terence Stamp as the enigmatic man with the glowering eyes, and Diana Rigg (in her last role) as Eloise's landlady with some secrets of her own. Kudos to cinematographer Chung-hoon Chung, who seamlessly blends the myriad physical elements of the film into a coherent whole. Chung brings all that is artful in film to the fore.
Even if the pace seems to slow in the middle of the film – and even if a love interest is gratuitously thrown in which does not advance the plot – LAST NIGHT IN SOHO still remains an entertaining and challenging film which will keep the audience guessing to the very end.
LAST NIGHT IN SOHO was released on October 29, 2021 and is currently available for viewing at the Cinelounge in Los Angeles (6464 Sunset Blvd.) If you're an aficionado of scary films with deep psychological underpinnings, you're sure to enjoy this thriller. By the way, in keeping with the tale's timeline, the movie's title comes from a hit single released in 1968 by an English pop band. You can also check out Google to find an interesting connection with Quentin Tarantino.