Review by Mary Bonnett
The Raven Theatre, Chicago's newest Equity-affiliated theatre, welcomes audiences in person to the world premiere of Joshua Allen's The Last Pair of Earlies, directed by Wardell Julius Clark.
Meeting Wayland Early, we learn that ever since he was a teenager in Mississippi, there were two things he could count on – his talent for making handmade shoes, and the love of his bride, Della Rose. Danger forces them to flee north to Chicago, and before they know it, nearly two decades have passed, and both Wayland and Della find themselves increasingly unable to count on anything, including their marriage. As they each contend with the weight of their spent youth and unrealized dreams, a life-altering question comes to the surface: are we still enough for each other? Joshua Allen emerges from the award-winning writers' room of Empire with a hometown world premiere.
There were moments in "The Last Pair of Earlies", Wayland Early reminded me of a younger Willy Loman from "A Death of A Salesman" by Arthur Miller but he stopped short of Willy Loman's ultimate demise. Wayland still had hope. Willy was sixty-three. In this play, the older Wayland is thirty-six.
Della Rose Early, Wayland's wife, had moments of a Linda Loman, but stopped short of Linda's crippling despair. She too was younger than Linda and the future still held a promise of hope. Playwright, Joshua Allen, explores the colliding worlds of past and present day reality for Della and Wayland Early.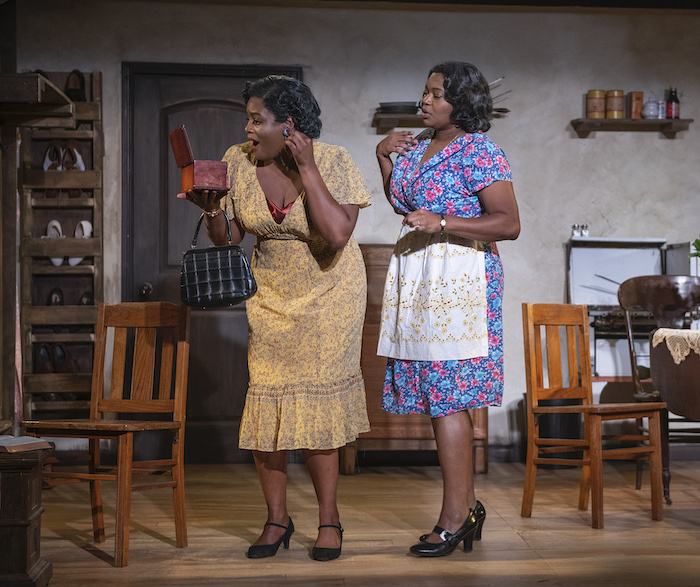 In Mississippi, the younger Earlies get married. As with many young couples seeking their future together, aspirations are often projected onto their partner. The wife or husband may believe their deepest desires will be fulfilled by their significant other. This is the case of the young Earlies.
Depending on your age, you may only identify with the younger couple. Their hopes, fears, joy and dreams of days to come are palpable. However, as the play progresses, if you have lived a bit longer, you may find the older Della Rose, alone and looking out a window waiting for a door to open and asking herself, "How did I get here?", more relatable.
Flash forward eighteen years from her youthful days in Mississippi and the main character, Della Rose is left with a dripping sink, an empty bed, and a husband disappearing for weeks at a time. Heartbreaking realities.
The play largely deals with Della and Wayland's past emerging to haunt their present, especially, the older Della Rose. At the opening of the play, she appears psychologically trapped in a small, one room, Chicago Southside apartment where she spends poignant moments conversing with her young husband from the past. It is here, with the young Wayland from her memories, she finds comfort and connection.
Realties of the present bring a temporary halt to her delusions. Wayland returns. Towards the end of the play, one haunting moment, summarizes their unattended romance. We witness the older Earlies stand in their cramped one room apartment, look at each other, and realize they don't know each other. Eighteen years of marriage, they discover in that moment they've been living with a stranger. A stranger who could never fulfill their dreams much less understand their needs. 
Yet, Allen doesn't leave us with complete despair. It is Della Rose, who finds the strength from her past to ignite her dreams for a future. In that, there is hope for us all.
The actors and creative team are to be commended for their talent. Though this skilled production has a few issues; and the touching script may need some tweaking, I was happy to see its Chicago opening as I sat in an integrated audience honoring the reopening of Chicago theater, at Raven Theatre. Bravo.
When: Through Dec. 12
Where: Raven Theatre's East Stage, 6157 N. Clark St.
Running time: 2 hours, 10 minutes, including a 15-minute intermission
Tickets: $40 at 773-338-2177 or Raventheatre
Written by Joshua Allen
Directed by Wardell Julius Clark
The production features Tarina Bradshaw, Demetra Dee, Keith Illidge, Marcus D. Moore, Jonny Morrison and Shadana Patterson