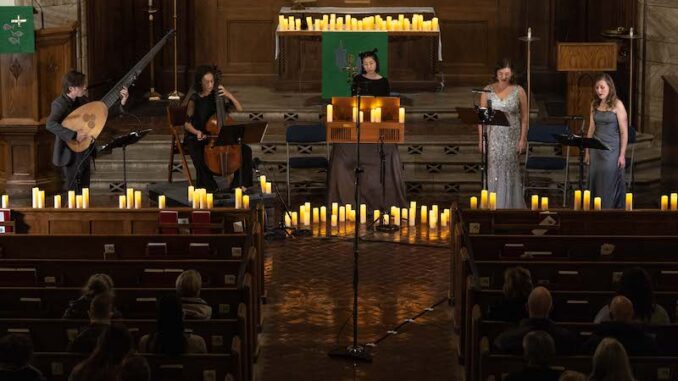 Third Coast Baroque seeks to bring baroque music to audiences so that it becomes relatable and enriches their lives. For my two friends who attended the opening of Third Coast Baroque with me, in person on November 13, 2021, it was mission accomplished. As the three of us left the concert heading for home, we agreed that the experience had been healing, gorgeous and ethereal.
The voices were beautiful solo and together in duets. The instruments blended perfectly with one another and with the voices and were lovely as solos. In one piece, a singer and a musician played from the balcony while the other singer and two musician remained on stage and the sounds lifted and spread to fill the cavernous space.
The program, entitled, "Song of Songs: Love and Adoration in the Time of Monteverdi" took place Saturday, November 13, 2021 at 5:00pm
Luther Memorial Church (Chicago) and featured:
Nathalie Colas, soprano
Kaitlin Foley, soprano
Anna Steinhoff, viola da gamba
Brandon Acker, theorbo
Sun Chang, organ
The concert which lasted an hour was uplifting and thrilling.  And you, too, can experience the inspirational concert through the "blessing" of  Video On-Demand: Nov 16-30, 2021
An extra treat for in-person viewers was the church with magnificent architecture and acoustics.
This is a hidden treasure. Many concert goers commented that they pass the church all the time but had never been inside. Simple, with a very high wooden ceiling and cavernous, the windows were modern and everything was balanced and visually harmoneous.
Conceptualized and curated by Third Coast Baroque co-founder and soprano Nathalie Colas, this intimate program features evocative texts from the Old Testament book entitled Song of Songs (also known as Song of Solomon). Noted for its sensual poetry, these ancient texts center on tender dialogues from one beloved to another. With vocal settings for one and two voices, 17th century Italian composer Claudio Monteverdi and his contemporaries feature interwoven vocal lines and musical dialogues that capture the passion shared by the poems' lovers. Supplementing the vocal repertoire are selections of endearing instrumental repertoire for viola da gamba, theorbo, and organ.
From its founding in 2016, Third Coast Baroque's artistic director Rubén Dubrovsky has fostered a strong sense of collaboration and creativity into vision of the ensemble. Song of Songs and other TCB artist-led productions are examples of how Dubrovsky empowers musicians to share their artistry with one another and develop programming that highlights their expertise and vast knowledge of early music. Song of Songs holds particular significance for TCB in that it was originally scheduled in March of 2021 but was postponed, like so many other "best laid plans," due to COVID. With these performances, not only does Song of Songs bring Third Coast Baroque back onstage for the 2021-22 season, it is also TCB's first live performance since November of 2019.
__________________
Since the pandemic still affects the realization of live performance, Third Coast Baroque will be offering hybrid access and online-only access tickets this season (see below). Additionally, 2021-22 events are announced quarterly, with the next release coming in January 2022.
HYBRID ACCESS – Ticket holders will be able to attend events in-person AND have access to the on-demand video stream.
ONLINE-ONLY ACCESS – Ticket holders have access to the on-demand video stream.
PROGRAM
O Beatae – Claudio Monteverdi (1567-1643)
Colas, Foley, Acker, Chang, Steinhoff
O Dulcissima Dilecta Mea – Stefano Bernardi (1577-1637)
Colas, Acker, Chang
Fantasia – Bartolomé de Selma y Salverde (1580-1640)
Acker, Chang, Steinhoff
Canario – Giovanni Girolamo Kapsberger (1580-1651)
Acker
Surge Propera – Giovanni Paolo Cima (1570-1630)
Colas, Foley, Acker, Chang, Steinhoff
Ave Maris Stella – Girolamo Frescobaldi (1583-1643)
Chang
Vulnerasti Cor Meum – Giovanni Felice Sances (1567-1643)
Colas, Foley, Acker, Chang, Steinhoff
O Quam Tu Pulchra Es – Alessandro Grandi (1586-1630)
Foley, Acker, Steinhoff
Toccata Arpeggiata – Kapsberger
Acker
Pulchra Es – Monteverdi
Colas, Foley, Acker, Chang, Steinhoff
Venite, Sitientes Ad Aquas – Monteverdi
Colas, Foley, Acker, Chang, Steinhoff
Check the website with many wonderful videos
Photo credit: Elliot Mandel