Commissioned and developed by Live & In Color, LA EGOISTA won the 2022 National Latine Playwrights Award. Dominican-American playwright Erlina Ortiz has received multiple writing awards, with her plays ranging from topics like gentrification to domestic violence and cultural preservation. The piece received a reading at the 2022 Latinx Theatre Commons (LTC) Comedy Carnaval and made its world premiere at the Actors Theatre of Louisville's Bingham Theatre in February 2023. Now Skylight Theatre Company kicks off its Fortieth Anniversary Season with LA EGOISTA.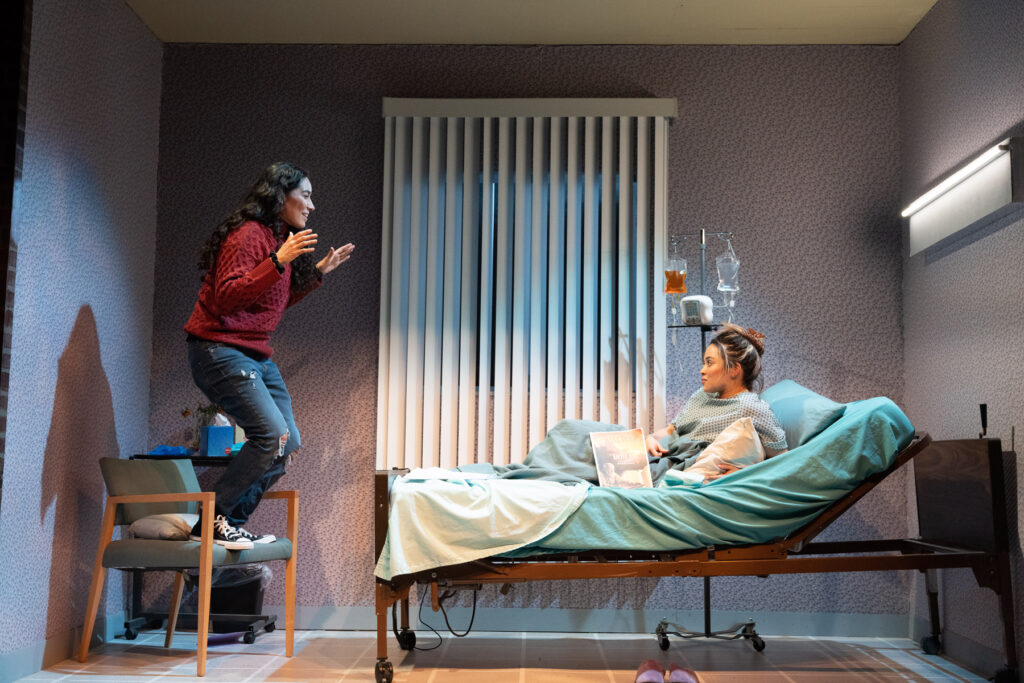 Josefina (Lys Perez) is a rising stand-up comic who pokes fun at everything and everyone, including her mother, now deceased. She has a younger sister, but the two have never been really close. Suddenly, everything in Josefina's life is about to change. Her sister Betsaida (Chanel Castaneda) has been diagnosed with a serious illness, and her only relative is her sister. Betsaida will need surgery and a lengthy recovery period – and Josefina reluctantly becomes her sister's caretaker. While her life and career are on hold, she rediscovers their history and what caused friction between them. Will that be enough to heal old wounds?
Helmed with compassion and humor, director Daphnie Sicre is not scared off by difficult topics and dives into the story with fearlessness. Happily, she is gifted with two very talented and experienced actors who keep the sisters' relationship in the forefront, warts and all. Author Ortiz also makes clever and whimsical use of puppetry to fill in slots in the two-person play. Keep an eye out for Josefina's kitty cat and Betsaida's physician. Kudos are also in order for the productions team. Flexible set design makes excellent use of a small space, with appropriate and well-done costumes, lighting, and sound.
This play will resonate with anyone with siblings while it navigates the often rocky journey which siblings take as they learn to survive each other – and sometimes come to love each other. LA EGOISTA will also appeal to the Latino community, given the characters' background and history. But it is also a story of two people who rediscover a relationship which they thought was lost. Above all, LA EGOISTA is a character study of two people in crisis – who just happen to be sisters.
LA EGOISTA runs through April 9, 2023, with performances at 8:30 p.m. on Fridays and Saturdays, at 3 p.m. on Sundays, and at 7:30 p.m. on Mondays. The Skylight Theatre is located at 1816 ½ North Vermont, Los Angeles, CA 90027. Tickets range from $20 to $45 (students $20, seniors $33, Pay-What-You-Can tickets available on a limited basis with ACCESS code). For information and reservations, call 213-761-7061 or go online.