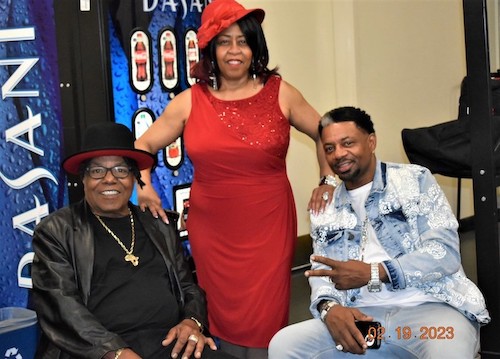 February was an extraordinary month for many celebrations honoring special people and watching dreams come true.
In Atlanta, Georgia, on February 19, 2023 the Rock N Roll Hall of Famer; 3x Grammy Nominee Tito Jackson of the musical legendary Jackson 5/Jacksons was recognized and honored with the Catylyst Award 2023 with a standing ovation at the Porter Sanford III Performing Arts & Community Center in Dekalb County by renowned drummer Jorel "JFly" Flynn, the CEO and Founder of "How Big Is Your Dream" Foundation and much more.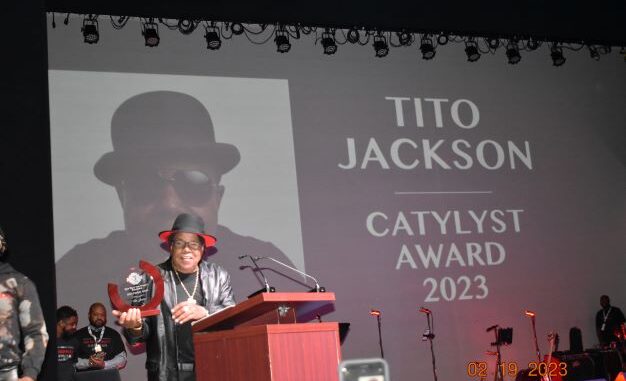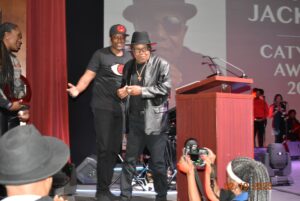 "JFly" (JFly Music Group) was the host of this "Our Soundtrack in American Music" that show cased the birth of music covering all eras with great professional artists performing with student-artists and captivating the audience including the Honoree, Mr. Tito Jackson. Visit https://howbigisyourdream.org
The musical birth of Tito and his brothers, The Jackson 5/Jacksons have earned their place in the musicals as well as humanitarian history books with hard work, determination, strong love for their craft and is still making history performing nearly 60 years later, earning awards, producing other musical acts and especially making a difference in our youth.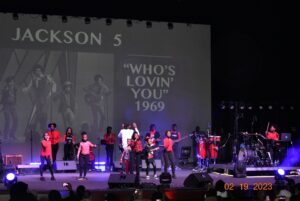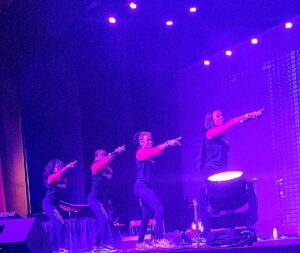 Each Jackson member has their own role they play in forming the success of their group.
However, top honors have to go to the 3rd oldest of the dynasty Jacksons, Mr. Tito Jackson. He had a dream, shared it with his brothers with the confirmation of their father, the late Joseph Jackson and 92-year-old Mother Katherine Jackson.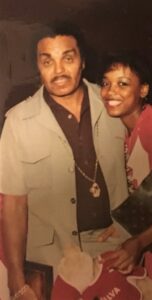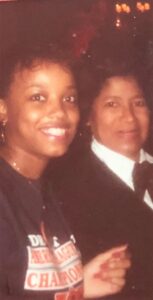 While father Joseph was away at work, Tito would sneak and play his father's guitar while brother Jackie and Jermaine sung along. Then, one day Tito did the unthinkable when he broke his father's guitar string…then Tito's father said, show me what you can do. Tito must have really impressed his father because he played the guitar every day afterward and continued dreaming.
While still dreaming, him and his older brothers allowed Marlon and Michael to join their Jackson Brother's group. Later in life, young, gifted Michael would become the Greatest Entertainer of All-Time known as the "King of Pop". Michael would have never achieved the international success if it wasn't for his older brother Tito breaking that guitar string and the rest of the family member having their special roles.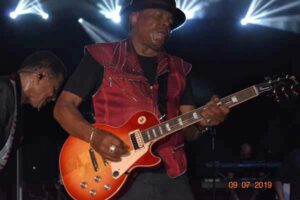 Just like every Jackson has their role, everyone had their role to make Jorel Flynn's event become a success with the great music of blues, jazz, etc. from the past to the present. Tito's musical family expands across the USA. Here in Atlanta, one of his cousins, our Atlanta own, Steven Icebuck Powell performance was awesome and had us up dancing.
He said he has to give credit to his cousin, Tito. Steven said, "Tito definitely has a big part in my music career from back in the Gary, Indiana days to now continuing the legacy of Joe Jackson work ethics and helping me to make good management decisions.
Our song together right now is a great blues song called, "I Got Caught (Loving in a Dream)", featuring myself, Steven Icebuck Powell and cousin, Tito Jackson which is on Tito's "Under Your Spell" album that was released last year". I have it and really enjoyed the song and Tito's entire album. That is beautiful how the Jackson family extends.
Tito was featured with the beautiful Natalia Damini singing "Attitude" that was just released March 17, 2023 and is doing extremely well. It is officially on MTV featured on "Spankin New" Pluto TV and is available on your favorite streaming platform. I love the dancing beat, the vocals with "attitudes" and their looks; therefore, let Tito and Natalia know what you think of their hit song and support it.
https://youtu.be/JBKrkYSZ0uk (Natalia and Tito's "Attitude") video
Even though Tito appears to be the quiet, reserve, calm and coolest of the Jacksons, his creativity continues to flow beautifully with a style whether if he is singing, writing, producing, arranging, playing his guitar, being instrumental in his sons, "3T" (Taj, Taryll, T.J.) and grandchildren lives, performing with Tito Jackson Jazz Blues Band, and performing with his brothers, still known as the Jacksons, who concerts I still attend and scream like I did when I was 9 years old when Motown introduced them to us in 1969 followed by 4 Number 1 Hit Songs.
Tito and the Jacksons have been so inspirational to me. The day before Tito accepted his award, I was able to sit down and talk with him and his crew about many interesting topics including several laughing moments. That's when I thought about showing Tito, what I had in my folder. When I showed him and told him I had drawn this picture of him when I was about 12 or 13 (30 years ago), he really smiled, and I believe he was proud of it.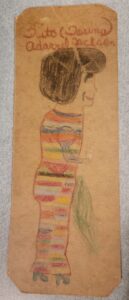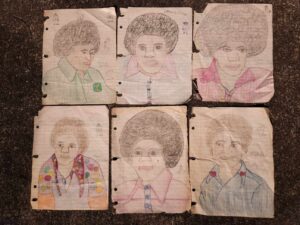 By these drawing, Tito knew he had made an impression on me just like millions of others who appreciates him and his brothers during this lifetime.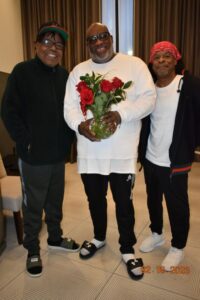 Mr. Tito Jackson, I'm so proud to see you achieve this special honor here in Atlanta, Georgia before you took off to Memphis, Tennessee to relax and fish with another popular musical icon, Mr. Larry Dodson, the former original lead singer of the Bar-Kays.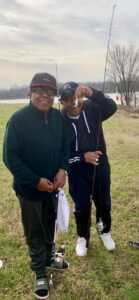 Again, we in Atlanta and the world, Congratulates, Mr. Tito Jackson on your Distinguish Award and the many more awards you will continue to receive because you have really stood the test of time with the gifts God has given you. Also, you are still making dreams come true for you, the younger and older generation.
And we will not forget what you said, "Hard work and having big dreams are worth it. You must work hard, strive for it and stay dedicated and put away the time that it takes to accomplish your dreams. If you have a dream to do music or become a doctor or whatever, you have to work on it, practice and study it, and it gets easier as you go. That's my message for the young people."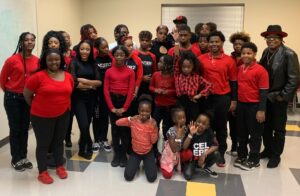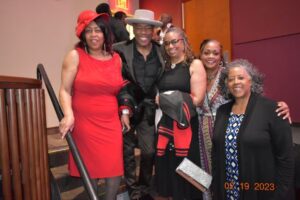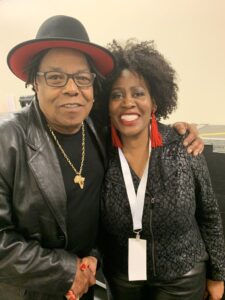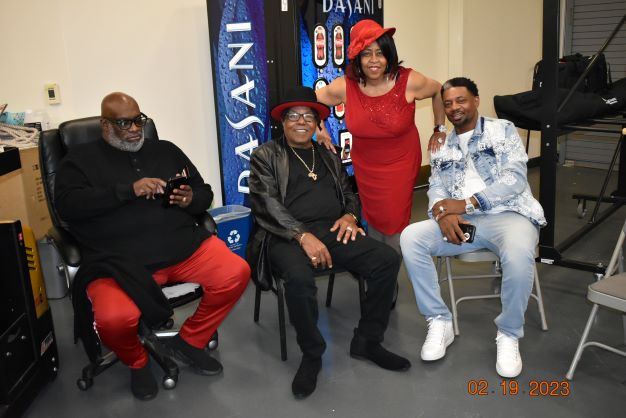 Thank you and we shall see you and your brothers again at your exciting, energetic and entertaining concerts.
Jacksons Concert Dates (2023) and more are being added –
Jul 15 Sat • 8:00pm The Jacksons (21+ Event) Yaamava Resort and Casino at San Manuel Highland, CA
Jul 16 Sun • 7:30pmThe Jacksons and Village People The Rady Shell at Jacobs ParkSan Diego, CA
Sep 8 Fri • 8:00pmThe Jacksons (Rescheduled from 3/17) Music Hall Center -Detroit, MI
And don't forget to check out the Jacksons' youngest sister on tour – Janet Jackson "Back Together" Tour 2023
http://www.instagram.com/poppa3t
http://www.twitter.com/titojackson5
http://www.youtube.com/TitoJackson5