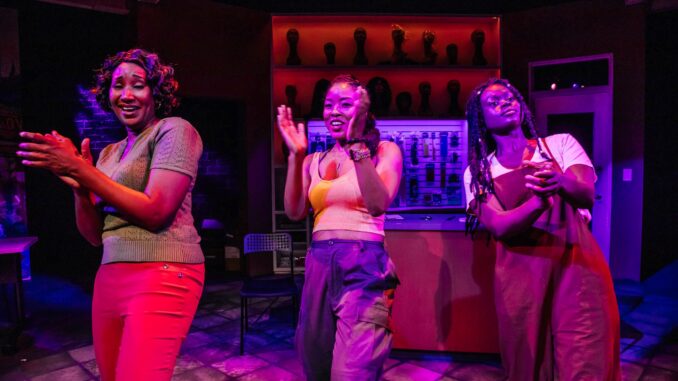 Written by francisca da silveira, CAN I TOUCH IT examines gentrification, Black hair politics, racial inequities faced by Black-owned businesses, and the whimsical, wildly eccentric place women of color recede into when they are asked questions they deem foolish. To quote playwright da silveira,
"It's a complicated feeling that many people around the country are grappling with…the compromises that go into improving a place while still trying to have it remain yours. I encourage everyone to think about the places they grew up in, about what used to be there and isn't anymore, about who used to be there and no longer are. Change is inevitable, but it's not always altruistic. My hope in writing CAN I TOUCH IT is not to present myself as an expert on national gentrification by any means, but to show how we can use, and in fact need, storytelling in order to grapple with the accelerating speed at which our homes are changing."
Suzen Baraka and Scott Victor Nelson – Photo by Jeff Lorch
Shay Solomon (Safiya Fredericks) is the proud owner of a Black beauty supplies shop in the center of an area which has become blighted over the years. But between the stresses and disappointments of the pandemic, she is barely able to make her bills. Shay is a single parent who wants the best for her daughter Lili (Iesha Daniels), on the cusp of adulthood – but how to survive in such troubled times? The bank has rejected her small business loan application, and she is on very shaky ground indeed. Meanwhile, a conglomerate controlled by the same bank has surfaced with big plans to clean up her corner of the world by building a huge and elegant apartment complex while populating the neighborhood with chic shops for the elite tenants. Slowly but surely, all her neighbors have folded and left for greener pastures. How to deal with a coolly elegant shark-like bank rep Beth (Suzen Baraka) and her old friend and fellow barbershop small business owner Leo (Scott Victor Nelson). Life has become too complicated, and her survival instincts are stretched thin.
Safiya Fredericks and Suzen Baraka – Photo by Jeff Lorch
Director Gregg T. Daniel does an excellent job of slowly and insidiously introducing each and every stressful event in CAN I TOUCH IT – all the while keeping the audience chuckling at unexpected comic moments. The talented four-person cast manages to plumb the depths of the personalities involved – even when Baraka, Daniels, and Nelson play two-three roles. Mark Mendelson's scenic design captures the underlying message of this dramedy, as do Wendell Carmichael's costumes and wigs – so essential to the story line.
Suzen Baraka and Iesha Daniels – Photo by Jeff Lorch
CAN I TOUCH IT offers a fascinating look at Shay's everyday trials and tribulations, with Shay as Everywoman in a tale played out many times in today's world. Although the author's fantasy button might be a little over-the-top, the story still retains its authenticity. Audiences – especially those with minority backgrounds – will find the play entertaining and thought-provoking.
Scott Victor Nelson, Iesha Daniels, Safiya Fredericks, and Suzen Baraka – Photo by Jeff Lorch
CAN I TOUCH IT runs through June 11, 2023, with performances at 8 p.m. on Fridays, Saturdays, and Mondays and at 3 p.m. on Sundays (no performance on 5/8/23; the performance on 5/12/23 is at 7 p.m.) The Rogue Machine performs at the Matrix Theatre, located at 7657 Melrose Avenue, Los Angeles, CA 90046. Tickets are $45 (seniors $35; students $25; Pay-What-You-Can on Fridays. For information and reservations, call 855-585-5185 or go online.